According to the IMF, its growth rates will be lower than those of the US, Britain, France and Spain over the next five years.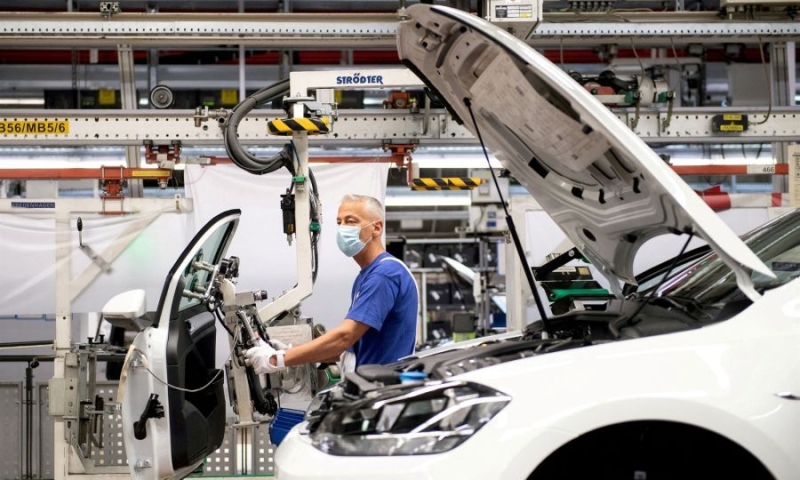 In June, industrial production slowed more than forecast due to a contraction in auto production. [Reuters]
Almost 25 years have passed since the time when Germany was characterized as the "big patient" of Europe. Then the reunification of its two parts, the inelastic labor market and the slowdown in exports were disrupting the economy, causing a double-digit rise in unemployment. The reforms of the 2000s ushered in the country's golden age, turning it into an export superpower. Today everything shows that Germany is lagging behind again. According to Andrew Cunningham, chief economist at Capital Economics, its economy will be the worst performer, pushing the Eurozone into recession in the second half of this year. The shock PMI figures belied hopes that the German economy would lean on services now that its manufacturing industry is in decline. Its even marginal return to growth in the second quarter, after the winter slump, risks proving short-lived. Industrial production slowed more than forecast in June as the auto industry unexpectedly contracted.
From 2006 to 2017, Germany showed growth higher than the other major European economies, followed by the US. However, according to the IMF, its growth rates will be lower than those of the US, Britain, France and Spain over the next five years. Certainly things are not as bad as in 1999, the Economist clarifies in an article. Unemployment is only 3%, Germany today is richer and more open. The problem is that over the years Germany has relied on old industries to make up for the lack of investment in new ones. Complacency, an obsession with fiscal discipline and red tape have kept public investment low, especially in areas such as IT. Added to this are geopolitical tensions, difficulties in reducing emissions and the consequences of an aging population. At the same time, the energy transition is a particularly big challenge for Germany, whose industry uses almost twice as much energy as Europe's second largest industrial power. Russian gas is finally a thing of the past, Germany is turning its back on nuclear power and its grids are unable to support the transition to renewables due to a lack of investment.
< iframe width='300px' height='500px' src='https://www.adstorebluebird.cy/api/banner/ServeBanner?zoneId=2734' frameborder='0' scrolling='no'>