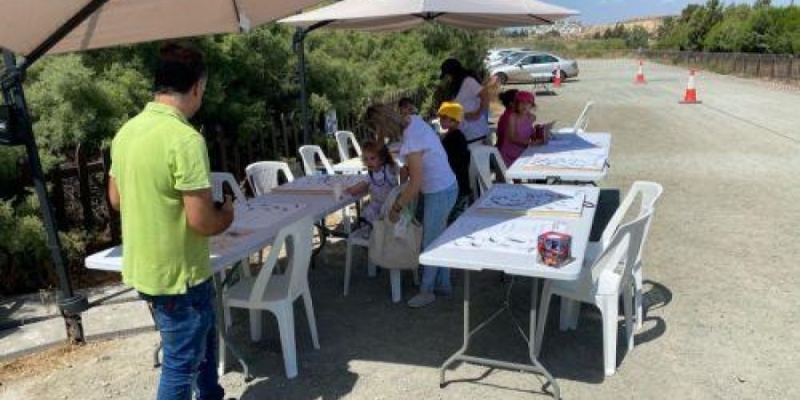 Young and old had the opportunity to make the most of the sunny weather and participate in the Oroklinis Lake Festival, which was co-organized by the Oroklinis Polychorus, the Community Council and the Cyprus Ornithological Association, with the co-financing of the Cyprus Youth Organization .
As part of the festival, the participants had the opportunity with binoculars and binoculars to bird watch, draw, study and get to know the birds of the lake through games and activities. said that "Lake Oroklini is one of the five natural protected wetlands in Europe. It is a small shallow lake of about fifty acres but it has a very attractive image and a nice natural environment.
Mr. Fakontis stated that "there is an impeccable cooperation with all the government agencies, which are involved in the conservation and maintenance of the lake of Oroklinis".
As the Community Council of Oroklinis, he said, "we also have resources and funds to keep the Oroklini lake clean and to enrich the services we can offer.
Regarding the Oroklini Lake Festival, Mr. Fakontis said that "it has been established and become an institution", concluded.
Melpo Apostolidou, program coordinator of Birdlife Cyprus stated that "hydrological issues had to be addressed, there was a need to manage the water, there were some foreign invasive species, a market was operating illegally which added another burden to the biodiversity of the lake".
Ms. Apostolidou noted that "the lake was facing serious problems mainly of human disturbance and this had the result of creating problems for the important species of birds that nest here which are also of European importance".
He noted that "Birdlife Cyprus together with the partners of the project proceeded to fence the lake so as to stop the disturbance that was taking place, hydrological management projects were carried out, artificial islands were created for the birds to nest, bird observatories were created, which people use to to enjoy the lake, informative signs were placed, educational programs are implemented, therefore a plan was created for the restoration of the lake but at the same time for the information and awareness of the world».
More than 190 species of birds have been recorded in Lake Oroklini, which is the smallest NATURA 2000 area in Cyprus, but this does not make it any less important. It is protected for two species of birds that nest in significant numbers, the Pellocaterina and the Kalamokannas, as well as for its rare vegetation.
Lake Oroklini is important for migratory birds that some come to nest, some to winter and some for resupply in spring or autumn. Lake Oroklini is the first recorded nesting area of ​​the Red-headed Duck in Cyprus and is the most important wetland in Cyprus for the European eel.
The LIFE Oroklini project 2012-2014 was co-financed 50% by the LIFE program of the European Union and significantly helped the biodiversity of Lake Oroklini but also in cultivating environmental awareness among the public.
Source: KYPE