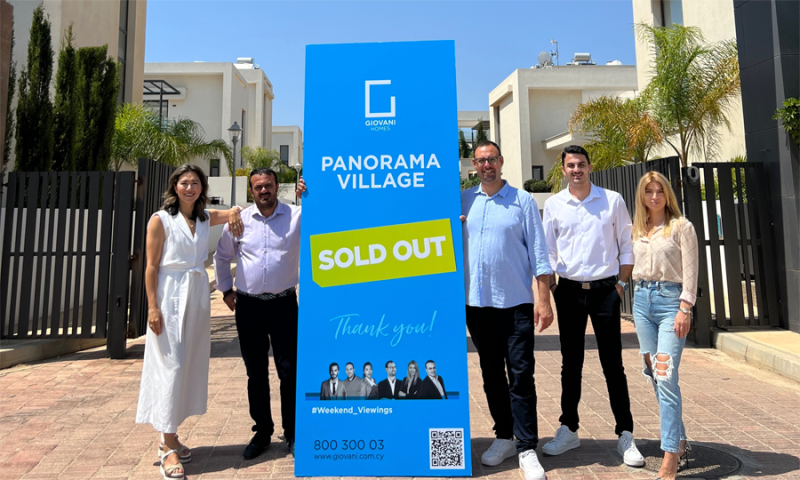 Giovani Homes is pleased to announce the completion of the "Panorama Residences" project in Protaras – an iconic project that will leave its mark on the wider area – as well as the sale of all the residences in the complex, a truly impressive fact, given that the project just delivered!
It is a project that started in 2019 and within four years employed more than 80 people in the workforce. "Panorama Residences" is located in the privileged location of Panorama in Protaras, which is only a ten minute walk from the nearest beach and 1 km. from shops, supermarkets, restaurants, etc. Also, nearby is the quiet port of Agia Triada, as well as the bustling resorts of Kapparis and Agia Napa.
"Panorama Residences" consists of 72 independent luxury residences of three and four bedrooms with a private pool and garden, in a contemporary architectural style to harmonize with the Mediterranean style of the area. The carefully selected location of the complex and the modern design, with comfort and luxury in mind, skyrocket the investment value of the project and make it ideal for both a holiday home and a permanent home.
Giovani Homes is a construction company active in the competitive real estate market in Cyprus, standing out thanks to its dedication to quality and emphasis on innovation while creating dream homes since 1986. The company is currently the largest employer on the south-east coast of Cyprus. It has successfully delivered over 5000 units while currently constructing over 20 projects. Its aim is to offer quality constructions of high safety standards to its customers. In addition, it has been supporting the local community for over 33 years and has a staff of 250 highly qualified staff. Its rich portfolio includes demanding luxury real estate construction and renovation projects. According to the latest research, the company holds an impressive market share of 14.4% while it is the first company in Cyprus to receive certificates in the following three areas:
ISO > 9001 – Quality
ISO 14001 – Environment
OHSAS 18001 – Health and Safety
Other great projects by Giovani Homes:
CHLOE DOWNTOWN VILLAS
https://giovanihomes.ubpages.com/chloe-villas/
ALL WHITE LIFESTYLE APARTMENTS
https://giovanihomes.ubpages.com/all-white/
SEMELI VILLAS
https://giovanihomes.ubpages.com/semeli- villas/
< iframe width='300px' height='500px' src='https://www.adstorebluebird.cy/api/banner/ServeBanner?zoneId=2734' frameborder='0' scrolling='no'>