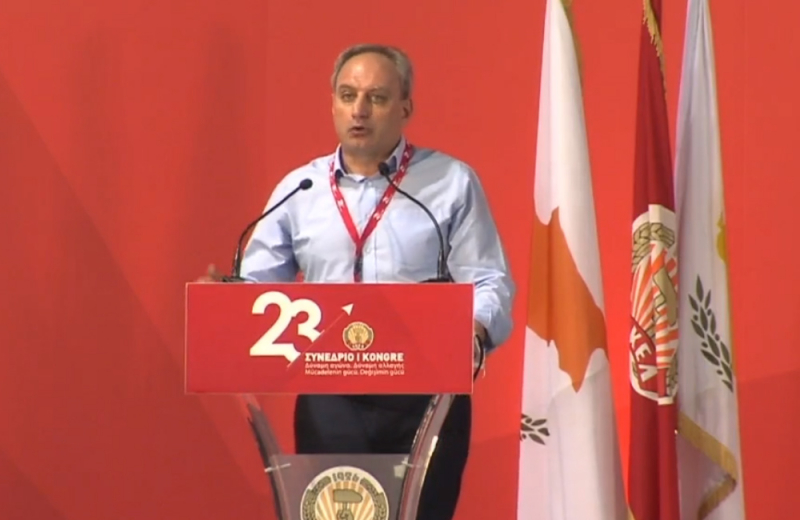 The Government has a moral responsibility to protect society and the economy from accuracy, and this is because it has a serious share of responsibility for the increase in prices of many basic goods, said in his speech at the AKEL protest rally for accuracy, in Nicosia, the AKEL General Secretary Stefanos Stefanou.
He added that this is much more necessary now that the problem of accuracy is expected to intensify due to the war in Ukraine.
Referring to the government, he said that "it is its inability to force consumers to pay tens of millions of euros in fines for pollutants" but also "its analgesia that allows cartels and big profits to make dirty money on fuel and other goods". He also spoke of the "ideological dogmatism" of the Government that leaves the country unsecured in electricity, grain, fuel.
He added that the Government is provocative since it asks them for proposals since it is well aware that the AKEL has submitted proposals that are specific, feasible, effective, immediately applicable.
He referred primarily to the proposal of AKEL for reduction of VAT on electricity, which became law by the vast majority of Parliament. The Government, however, not only did not implement it, he added, but even sent it to the Supreme.
"So, gentlemen of the Government, proceed with the implementation of the reduction of the VAT on electricity. "This is also suggested by Europe, which you often invoke to justify anti-popular policies," he said.
In addition, he said, AKEL proposes termination of double taxation on fuel, termination of the fee for RES in electricity bills, termination of VAT on pollutants, the use of funds from the Fund for pollutants for targeted subsidy of electricity bills, reducing VAT on basic goods and setting a ceiling on basic necessities.
He also spoke of the government's "lack of political will" to implement the proposals, adding that "it warmly embraces only banks and large interests ».
To the question of the Government, as stated by "where will the money be found", AKEL answers that they will be found from what the state additionally receives from the increased prices, from the additional amounts that enter the Fund for pollutants and that the Government where they are going, he said.
"Really, how is it that every time the big interests, the banks want incentives, the state has the ability to offer them and when consumers demand protection, the government declares weakness ", Stefanou asked.
He added that it is a matter of priorities, it is a matter of politics and philosophy.
" The Government and the Alarm, by and large, support the great interests. While we are by nature and we are with the ordinary people, the workers, the people who need the support of the state. We support them. We are fighting for them inside and outside Parliament. For them, we are here today ", he stressed.
For them, he added," we will continue to pressure the Government to take measures to deal with accuracy "./p>