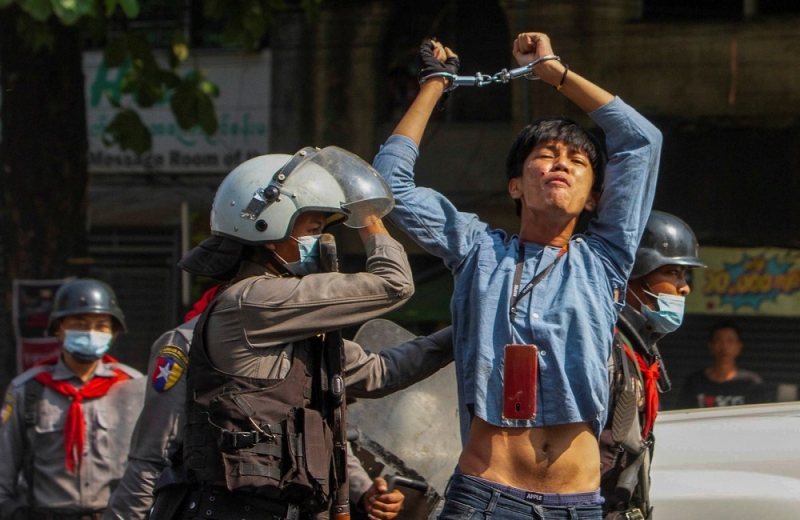 The Myanmar junta announced today that four people were to be executed, including a former member of the party of the country's former political leader Aung San Suu Kyi, as well as a well-known, democratic activist.
Former MP Pio Zeia Tau and activist Ko Jimmy have been sentenced to death on "terrorism" charges and will be hanged "on the grounds that" the penitentiary procedures "together with two other detainees. A spokesman for the junta, Zhao Min Tun, said the date had not yet been set.
The military junta has sentenced to death dozens of activists who mobilized against the coup, as part of a brutal crackdown on protests. No executions have taken place in Myanmar for more than 30 years.
Pio Zeya Tau, a former member of the National League for Democracy (LND), Aung San Suu Kyi's party, was arrested in November and sentenced to death in January under anti-terrorism law. Tau is also a former hip-hop star and was jailed in 2008 by the former military junta for the lyrics he used in his songs. He was elected MP with the LND in 2015. He was accused of organizing several attacks against the regime forces after the coup. Among them was one against a train on the outskirts of Rangoon, where five policemen were killed.
The court-martial also imposed the same sentence on activist Kiao Min-yu, better known by the nickname "Jimmy", who was a central figure in the 1988 student uprising against the former junta. The other two men to be executed killed a woman believed to be a junta informant, according to the indictment.
A junta spokesman said all of them They appealed and the sentence was commuted, but both appeals were rejected.
Human Rights Watch, Phil Robertson. "This action will provoke global condemnation and consolidate the junta's reputation for human rights abuses," he added.
The February 2021 coup plunged the country into chaos. About 1,800 civilians were killed by security forces and more than 13,000 were arrested.