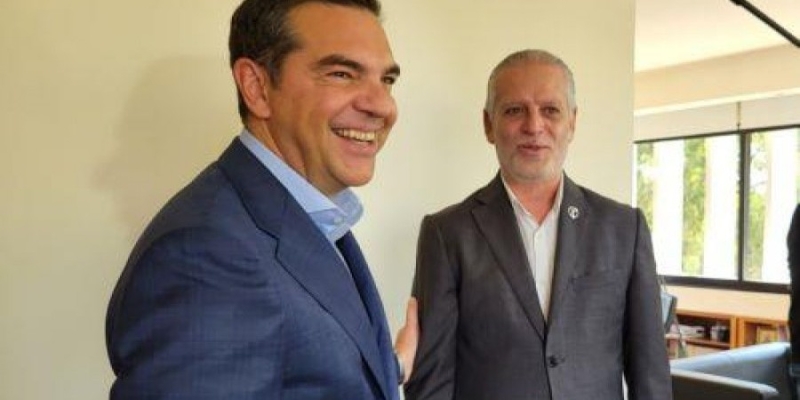 Grateful to have been chosen to speak at an event for the memory of Vasos Lyssaridis organized by the Municipality of Lefkara, said Alexis Tsipras, President of SYRIZA, speaking in a meeting with the President of EDEK, Marino Sizopoulos, at the offices of EDEK on Thursday.
Referring to his participation in an event in memory of Vasos Lyssaridis, organized by the Municipality of Lefkaron and the naming of the central square of Lefkaron after "Vassos Lyssaridis", Mr. Tsipras said that "I am grateful that the Mayor of Lefkaron chose me to speak for a great, international and national personality".
For his part, Mr. Sizopoulos said that he considers their meeting "very important, because it is precisely continuation of a long-standing relationship and friendship, which we have both on a personal and party level, and this is very important".
According to an announcement by EDEK, Marinos Sizopoulos and Alexis Tsipras then discussed the developments in Cyprus as they have been formed after the elections, about the Cypriot issue, the role of Europe and the European Socialists, but also about the joint actions that must be taken to prevent the operation of the nuclear plant in Akkugiou.
Earlier , Mr. Tsipras had a meeting with Andreas Mavroyiannis, after which no statements were made. In the evening, he is expected to speak at the event organized by the Municipality of Lefkara in memory of Vasos Lyssaridis.
Source: KYPE