Συντάγή της Αθηνάς Λοϊζίδου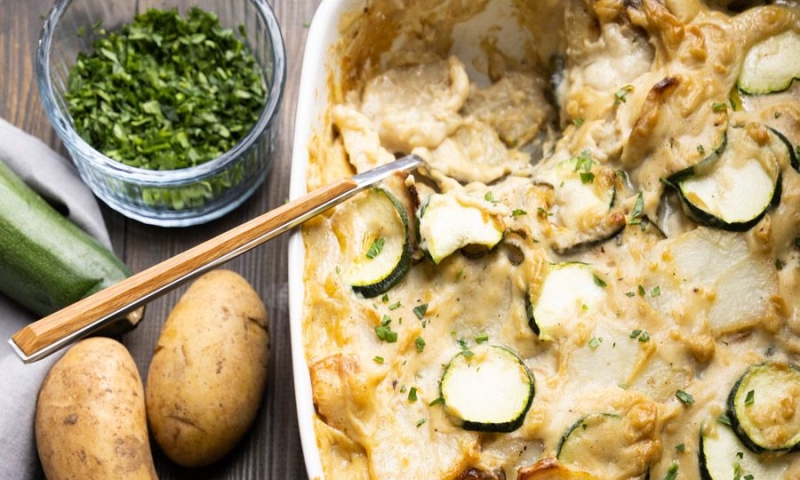 Such a perfect and enjoyable dish that you will make again and again. Creamy and tasty, but at the same time healthy. First we cook the zucchini and potatoes in the oven to cook and roast. We make an easy béchamel with oat milk, which we will put in a pan together with our grilled vegetables. Easy, healthy and filling dish!
Preparation time: 50΄
Baking time: 40 '+ 20'
Servings: 8
Calories per serving: 360 kcal
We will need a pan or pyrex, 22Χ22Χ6 cm
INGREDIENTS:
1 kg zucchini, cut into thin slices thin slices
60 gr. olive oil
20gr. balsamic vinegar
Salt and pepper
For the Béchamel sauce:
60 gr. olive oil
80 gr. flour for all uses
1 liter of soy milk
1 cube of chicken broth KNORR
½ tbsp. paprika
Salt and pepper
EXECUTION:
Preheat the oven to 200 C. In a bowl, add the chopped zucchini, potatoes, olive oil, vinegar, salt and pepper. Mix well and spread on an oven tray lined with greaseproof paper. Put the pan in the oven and bake for 40 '.
2. When our vegetables are almost ready we make our béchamel. Heat the olive oil in a saucepan and add the flour. Mix with a silicone spatula until the oil absorbs the flour. Add the milk, the crushed chicken broth cube, the paprika, the salt and the pepper and mix. For mixing, use a silicone spatula and a wire alternately. We are careful that the béchamel does not stick to the bottom of our pot. When the béchamel starts to coagulate, remove the pan from the heat.
3. To set our gratin in the pan, spread 2-3 tablespoons of béchamel on the base of the pan. Spread with a few roasted zucchini and potatoes, add a little béchamel again. Repeat the same process until we use all the ingredients. Put our pan in a preheated oven, this time at 180 C air for 20 '. When our food is ready, let it cool and set for a few minutes, then serve.
Find more recipes at athenarecipes.com