Athina Loizidou's recipe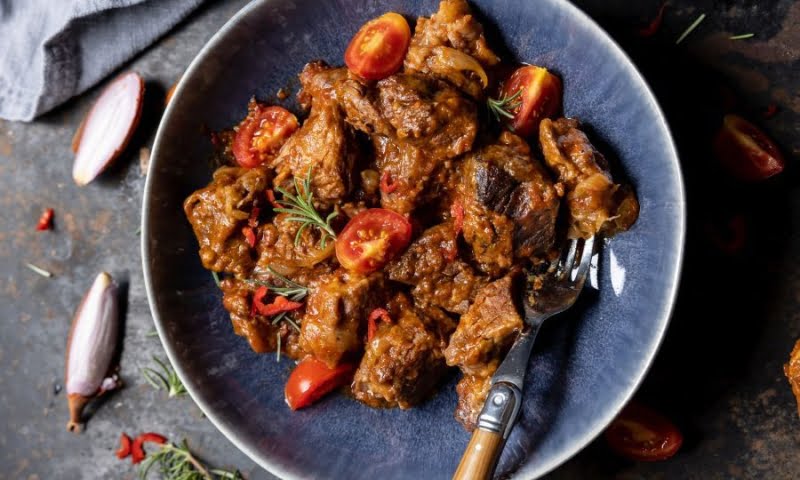 Wonderful recipe for beef stew, tender and delicious. A favorite recipe of Greek cuisine, which is easy, but has a few little secrets to make it perfect without being too heavy on the stomach.
Preparation time: 20'
Cooking time: 4 hours
Servings: 4
Calories per serving: 645 kcl
Ingredients:
For the meat
1 kilo of olive beef, cut into cubes
30 g. olive oil
Salt and pepper
30 g. all-purpose flour
For the stew sauce
30 gr. olive oil
300 gr. small onions, cleaned and cut into 4
½ tsp. Melted sweet garlic
1 kg. rosemary
1 cinnamon stick
15 g. tomato paste
10 g. granulated sugar
1 tsp. sweet cumin
400 g. grated tomato
500 ml water
1 KNORR beef stock cube, crushed
To serve
Fresh bread
Execution:
1. In a bowl, mix the pieces of meat with salt, pepper and flour. Place a pan on high heat and heat the olive oil. Transfer to the hot pan and saute for 4-5 minutes until our meat gets colored on all sides.
2. Place a pot or a fireproof dish with a lid on a high heat and pour the olive oil. Add the onions and garlic and saute for 1-2 minutes. Add the rosemary, cinnamon, and paste to the pot and saute. Deglaze with the vinegar, add the sugar, the cumin, and mix. Add the tomato, water, stock and meat from the pan. Mix and cover with the lid. Put the covered dish in a preheated oven at 160 C and cook for 4 hours.
3. We serve our stew with fresh bread.
Find more recipes at athenarecipes.com