On their way to the championship, APOEL lost to the Sofroni team for the second time in the playoffs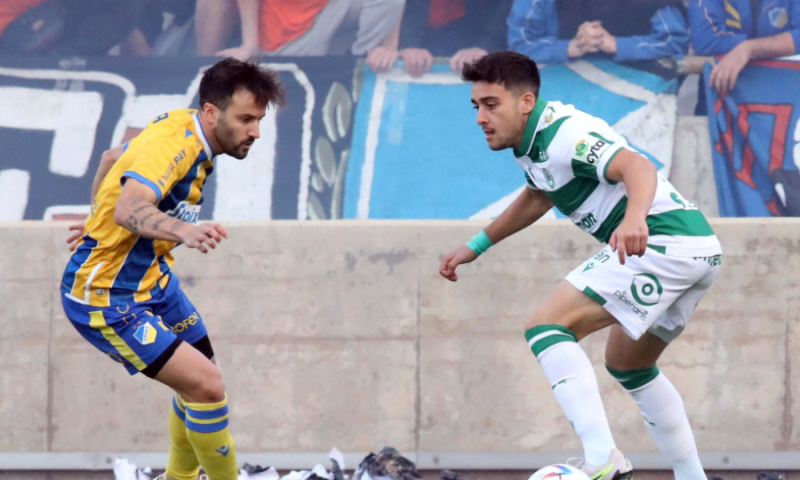 watch video
APOEL and Omonia remained in the "white" draw and settled for one point. The "blue and yellow" were in control of the match and created several opportunities which they did not take advantage of. Omonia missed a penalty with Ansarifard in the 7th minute. After today's loss and Aris' victory over Pafos, the "blue and yellow" are now -3 behind the "Light Brigade".
First Half >
With the good morning in the game, Omonia missed a huge opportunity to take the lead in the score. After VAR intervention, the "greens" won a penalty as after Zacharios' cross the ball hit Crespo's hand.
Ansarifard took over the execution and hit the crossbar, wasting a unique opportunity in the 7th minute for to give his team the lead.
APOEL then took control of the match. Vladan Milojevic's players were moving the ball around, but they had difficulty breaking down the "green" defense and creating chances.
The "clover" gave space and tried to hit on the counterattack, which he succeeded at the beginning of the game, but Ansarifard missed from eleven steps.
In the 34th minute, Kvilitaia sent the ball very high with a shot from outside the area while the shots of Ephraim and Dalsio in the 38' and 40' respectively had the same fate. In fact, the Portuguese could have broken the ball in the 43' but he preferred to make the shot which went too high.
0-0 was also the score of the first half.
Second Half
The setting in the replay was similar to that in the first part. The "blue and yellow" had possession and were pushing for the goal while Omonia was limited to a passive role.
APOEL missed two very good chances within two minutes with Ben and Kvilitaia. Initially, Komorianos took the shot in the 59th minute and saw the ball go inches past Uzoho's left post. In the 61st minute, the Georgian forward took a shot from outside the area, but the goalkeeper of the "greens" made a difficult save for a corner.
The "blue and yellow" put a lot of pressure on Omonia shortly after 70'. Vladan Milojevic's team was constantly outside the "green" boxes and looking for open spaces.
In the 75th minute, Kostandinov hit the crossbar with a spot kick after a corner kick. In the next phase, Dalsio caught a set piece in the movement from the edge of the area but after some fights the ball ended up for a corner.
In the 90+2' Uzoho made a great save on a strong spinning header from Crespo and kept the zero.
Four minutes later, Makeda found himself face to face with the "clover" keeper but could not find the ball properly and send it towards the goal.
0-0 was also the final score. APOEL now remained at -3 from Aris who won 2-1 against Pafos.
THE IDENTITY OF THE MATCH
APOEL ( Milojevic): Belec, Susic (50' Cebak), Dvali, Crespo, Ferrari, Kostandinov, Sarfo, Dalcio (86' Ilia), Ephraim (64' Dongala), Ben (64' Makeda), Kvilitaia p>
Omonoia (August): Uzoho, Kasama (64' Mix), Loizou (46' Sradi), Kitsos, Letsiaks, Ansarifard (46' Kakoullis), Zachariou (73' Papoulis). , Lang, Panagiotou, Kousoulos, Bezous (64' Charalambous)
Scorers: -/-
Yellow cards: 22 'Dvali, 84' Chebak/41' Ansarifard, 60' Zachariou
Disposals: -/-
Referee: Antonio Emanuel Carvalho Nobre
VAR: Fabio Oliveira