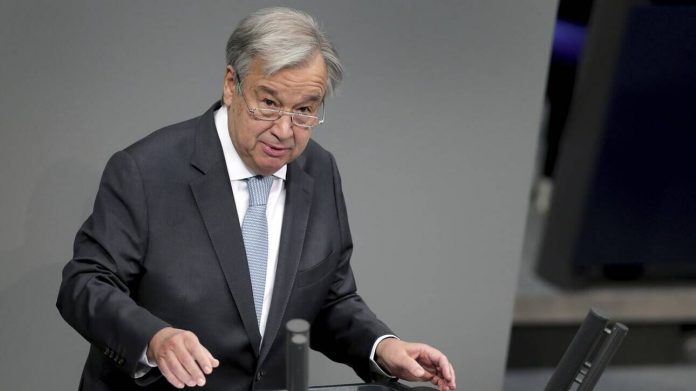 The UN Secretary-General today urged young people to continue to put pressure on governments to which they must "set an example" and from which they must "be held accountable" for their action in the fight against climate change.
"Young people have been at the forefront of proposing positive solutions, claiming climate justice and holding leaders accountable. "We need young people everywhere to continue to make their voices heard," Antonio Guterres said in a video message delivered to 400 young people from around the world gathered in Milan.
To make their voices heard "in order for developed countries to keep their promise of $ 100 billion a year in climate aid to the developing world", "in order to reduce emissions and reduce global warming to +1, 5 degrees Celsius ", in order to" have commitments for carbon neutrality by the middle of the century ".
"Your solidarity and your demands for action set an example. "National leaders must follow your example and ensure that the ambition and results we need at COP26 and beyond are achieved," he said, a month before the start of this crucial climate conference in Glasgow .
The 400 young people aged 15 to 19, who came from almost 200 countries, are expected to present their common vision for tackling climate change today and prioritize ministerial meetings until Saturday to prepare for COP26.
"The climate crisis is a red alert for humanity," said Antonio Guterres, echoing an expression he used when the latest UN climate report (Giec) was released in August.
The Giec had then warned of the risk of the rise in global temperatures to reach the limit of 1.5 degree Celsius by 2030, ten years earlier than estimated.
"As usual, the poorest and most vulnerable are hardest hit," he said.
"The chances of action to prevent the worst effects of the climate crisis are rapidly declining. We know what we have to do and we have the tools to do it. "
According to Giec, in order to limit the rise in temperature to +1.5 degrees Celsius compared to the pre-industrial era, as is the most ambitious goal of the Paris Agreement , greenhouse gas emissions must be reduced by 45% by 2030 compared to 2010, before efforts to achieve carbon neutrality continue around 2050.