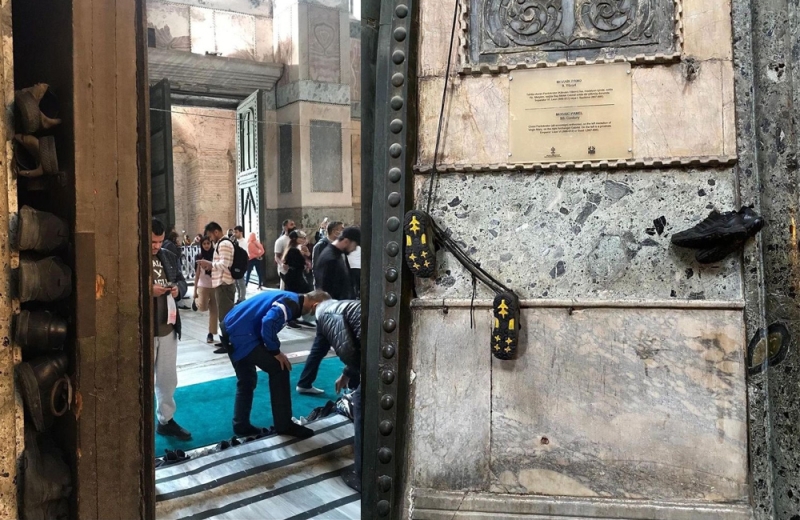 New embarrassing images from Hagia Sophia see the "light" of publicity. on Twitter, in which it seems that the Turks have turned parts of the temple into a shoe rack.
Polat accompanied the photos with an angry caption, in which he commented:
"The situation has reached a point where it offends the sanctity and historical value of Hagia Sophia. I call on the competent institutions to put an end to this shame towards the sensitivity of the millions of people who have dedicated their souls to Hagia Sophia. "Do not the 154 cameras and the 69 security and tourism police see this?" He wonders.
Ayasofya'da durum Ayasofya'nın kutsiyetine ve tarihsel değerine hakaret seviyesine doğru gidiyor.

Yetkili kurumların bu ayıba son vermelerini Ayasofya gönül vermiş milyonlarca insanın ortak duyarlılığı ile rica ediyorum.

154 kamera
69 güvenlik
ve turizm polisi bunu görmüyor mu? pic.twitter.com/9pXoeBxgTU

— Mahir Polat (@mhrpolat) April 23, 2022
Also the Greek Ministry of Foreign Affairs had issued a statement referring to an act that "causes disgust and regret" asking the Turkish Principles: "to do the right so that those responsible can be brought to justice, as well as to immediately repair the damage to the Monument ".