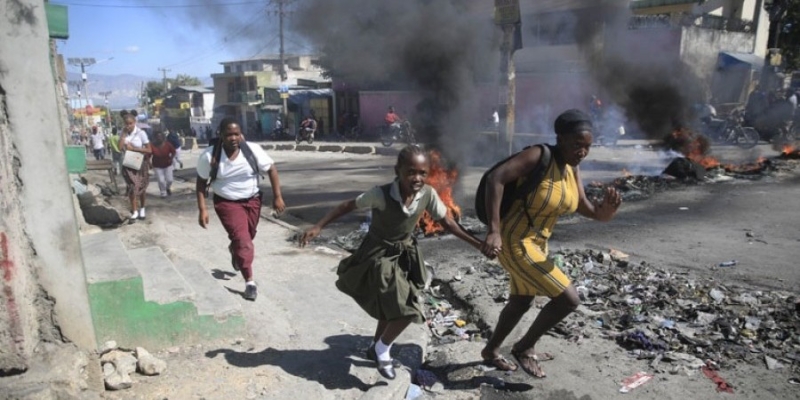 Six police officers were killed yesterday Wednesday in northern Haiti during an attack on a police station by gang members, authorities said, an incident that sparked protests in Port-au-Prince on Thursday.
Outraged citizens and police marched through the streets of the Haitian capital, set up barricades, attempted to occupy the office of embattled Prime Minister Ariel Henri and stormed the runway of Toussaint Louverture International Airport, an AFP correspondent found.
They were unable to reach the diplomats' lounge, where the head of government was after his return from a meeting abroad. However, there were problems with aircraft arrivals and departures. Besides, schools closed their doors.
On Wednesday, "criminals" attacked three times a police station in Liancourt, in the north of the impoverished Caribbean country· "during the third attack", gunmen raiding "on all fronts" in the end "they killed six of our policemen," said Jean Bruce Myrtil, a police officer, on the microphone of a Haitian radio station.
Among the six, the four police officers, who had been injured earlier in the day, were "taken out" by gang members. from the clinic where they were being cared for "to execute them", the officer added.
The director general of the Haitian police, Franz Elbe, announced that he had put his forces on a "state of maximum vigilance" ?, shortly after police announced the deaths of six of their members on social networking sites.
Fourteen police officers have been killed by gang members in January, according to a count by Haiti's national police union. Trade unionist Lionel Lazar demanded that the authorities take measures to protect members of the police.
Gang violence and the humanitarian crisis have reached levels that Haiti has not experienced in "decades'', he said yesterday. Tuesday the UN, insisting that it is necessary to send an international armed force, a request that has remained on the table of the Security Council for three months, without any result.
Source: KYPE