US Supreme Court sends Halkbank case back to appeals court
The U.S. Supreme Court, in a ruling today, is giving state-owned Turkish bank Halkbank a chance to try again to avoid criminal charges it could face in the United States on charges it helped Iran to bypass US economic sanctions.
Members of the Supreme Court rejected a lower court ruling that had cleared the way for prosecutions to go ahead. In the same context, they are now asking the 2nd US Circuit Court of Appeals, based in Manhattan, to review the legal line through which Halkbank is essentially trying to overturn the case.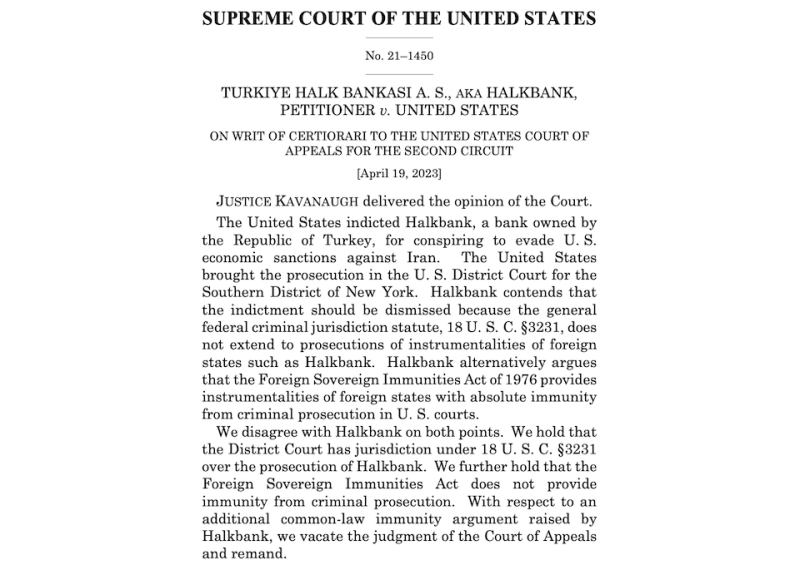 Turkish state-owned Halkbank was indicted in New York in 2019 for bank fraud, money laundering and conspiracy related to its alleged use of services and companies in Iran, Turkey and the United Arab Emirates, with aimed at avoiding and circumventing American sanctions.
Halkbank, for its part, rejected all the accusations. At the same time, however, she argued that she cannot be prosecuted, precisely because she belongs to the Turkish state, a fact which should, according to the Turkish defense line, ensure her "state immunity" as a foreign public.
The US Supreme Court rejected the bank's argument that it was protected under a 1976 Foreign Sovereign Immunities Act (FSIA) that limits the jurisdiction of US courts when it comes to lawsuits against foreign countries. However, a majority of the Supreme Court found that the 2nd Circuit Court of Appeals did not fully consider whether the bank has immunity under "common law" principles.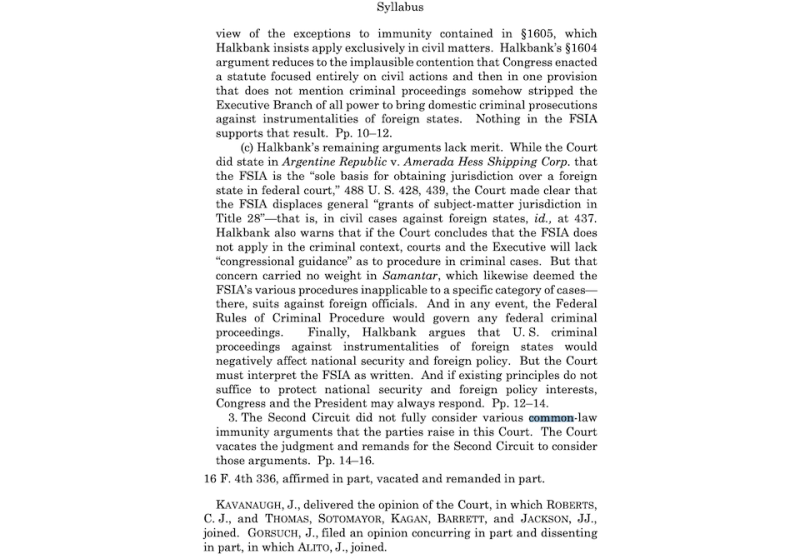 U.S. President Joe Biden's administration has said the FSIA does not apply to criminal prosecutions and, even if it did, Halkbank's actions fall under the law's government-sponsored exemption. immunity as we are talking about misconduct involving commercial activities.
The US government had argued, in the same context, that the case does not involve the prosecution of a sovereign government and that it has been pursuing criminal cases against foreign state-owned companies for decades.
A US Justice Department lawyer said in January that the ruling on Halkbank could allow any foreign state-owned enterprise to "become a clearing house for any federal crime, including interfering in elections, stealing nuclear secrets or evading sanctions and funneling billions dollars to a state which is, however, under a US embargo.
US prosecutors accused Halkbank of converting oil revenues into gold and then into cash to benefit Iranian interests and of justifying the transfers of oil revenue under the guise of sending food.
They also accused Halkbank of helping Iran smuggle $20 billion, using the US financial system among others.
The Manhattan-based 2nd US Circuit Court of Appeals ruled against Halkbank in 2021, concluding that even if the FSIA shielded the bank, the conduct it was accused of fell within the commercial activity exception.
The US Supreme Court comes, however, with today's decision, to send the case back to the appeals court.
With information from Reuters