Συντάγή της Αθηνάς Λοϊζίδου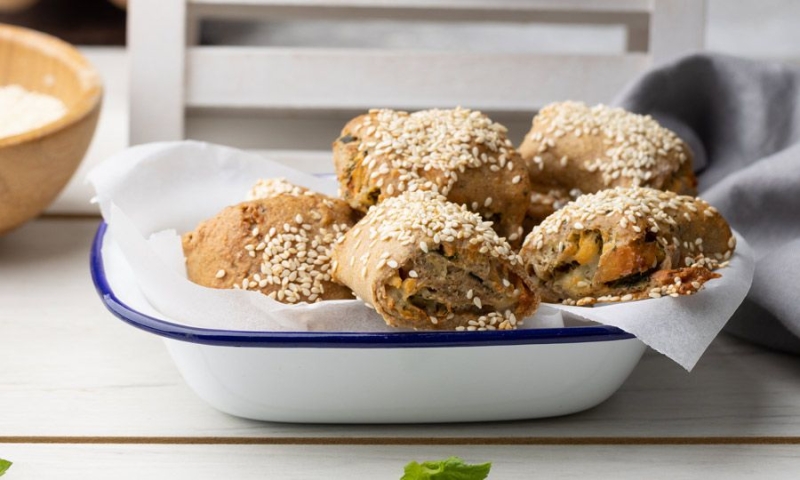 watch video
Wonderful and healthy Halloumotes that are made so easily. Dough with Zeas flour and plenty of Cypriot, organic halloumi. These delicious Halloumotes, when cold, can be stored in the refrigerator, well sealed, in special food bags. I personally enjoy them as breakfast, warming up one or two in the toaster for an easy, quick and healthy breakfast.
Preparation time: 15 '
Baking time: 40'
Servings: 12 halloumotes
Calories: 165 kcal per halloumoti
INGREDIENTS:
2 organic (300 gr.), Halloumia Charalambidis Christis, grated
250 gr. whole Zeas flour + extra to flour our workbench
170 gr. water
½ teaspoon salt
1 tbsp. sugar
25 gr. olive oil
2 tbsp. dry mint
A few chopped fresh mint leaves
1 organic egg, lightly beaten
A little sesame
EXECUTION:
1. Pour the flour, water, salt, sugar and oil into a bowl. Stir to make the flour absorb the liquids.
2. We flour a counter and we work our dough to make a smooth and elastic dough.
3. We take half of the dough and open it in a sheet 1/4 cm thick. Sprinkle over half the mint, a few fresh chopped mint leaves and 1/2 grated halloumi. Wrap the sheet in a roll and cut it vertically into 6 pieces. Put them on a baking sheet and do the same with the rest of the dough.
4. Spread each halloumoti with the beaten egg and sprinkle with sesame seeds. Meanwhile, preheat the oven to 180 ° C. Bake in the oven for 35-40 minutes, until golden brown.
Find more recipes at athenarecipes.com