Συντάγή της Αθηνάς Λοϊζίδου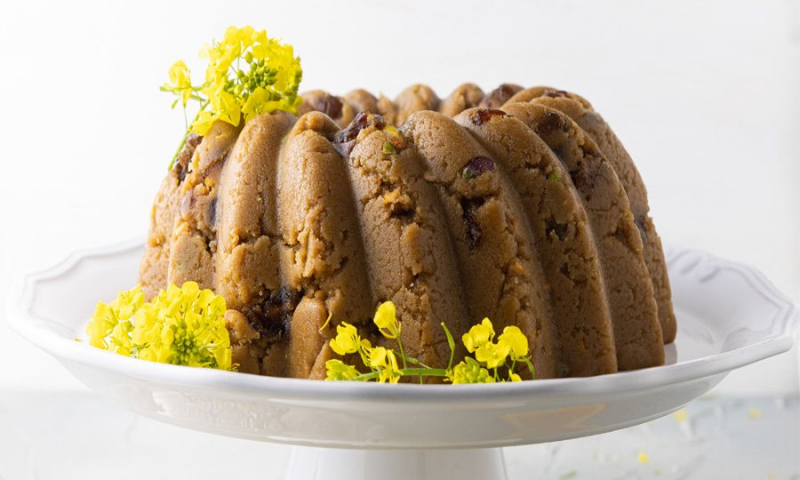 The best recipe for halva. Try it and you will understand why we like it so much. Made with olive oil, semolina, palm trees and orange. The sugar I use is organic and raw coconut sugar.
Preparation time: 20 '
Servings: 18
Calories per serving: 260 calories per 100 g. 195 kcal
We will need a medium, round pan with a capacity of about 2 liters, with a hole in the center.
MATERIALS:
160 ml olive oil
500 gr. thick semolina
60 gr. χαλεπιανά
150 gr. palm, seedless, finely chopped
For the syrup:
300 gr. coconut sugar
1.3 liters of water
Grate the peel of 2 oranges
EXECUTION:
1. Heat the olive oil well in a large saucepan. Add the semolina and fry, stirring with a silicone spatula.
2. Meanwhile, in another smaller saucepan, add the sugar, water and orange zest. Put the pot on the fire, stir and let the mixture boil strongly for 2 minutes. Remove the pot with the syrup from the heat.
3. In the pot where we cook the semolina, pour a glass of hot syrup and stir quickly. At this point we need a large pot, because the mixture with the addition of hot syrup swells and splashes with the risk of burning us. When the syrup is absorbed, pour the next glass of syrup, stirring quickly with the silicone spatula. Repeat the process until it absorbs all the syrup. Finally, mix the halibut and the dates in the halva.
4. Transfer the mixture to the pan. Press it carefully to apply the hot halva to the shape of the pan and leave it to cool. Turn it over on a plate, cut it into slices and serve.