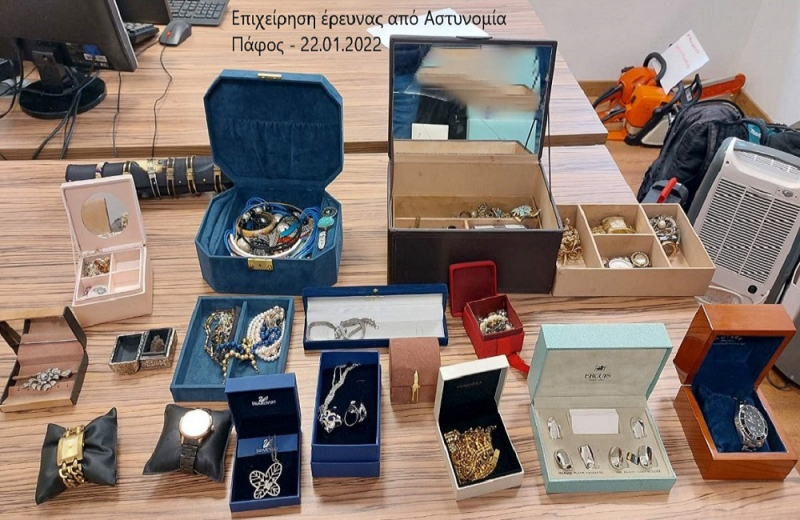 Police arrested two people, a 33-year-old man and a 29-year-old woman, after a search operation at a house where the two suspects lived in a village in Paphos province, where property was found that is being investigated as a theft product. Among those found are a large number of gold, collectible coins, laptops, a TV, power tools, as well as a large number of hunting cartridges and a grenade, partially oxidized, but still in working order.
The search operation at the residence of the two suspects took place shortly after 6.00 on Saturday morning, with a court order secured on the basis of evidence that emerged for the 33-year-old's involvement in the number of burglaries and thefts, as well as car thefts, committed in Paphos.
These are a total of nine burglary cases, seven apartments and two houses, as well as two car theft cases. One of the two vehicles was stolen on December 31, 2021, during the burglary of one of the two houses, located in Kissonerga. The vehicle is still wanted by the Police, while a second vehicle, which was stolen three days earlier, on December 28, has been located.
The 33-year-old and 29-year-old were detained for police purposes, with the Paphos Police investigating the nine cases of burglary and theft, the two cases of car theft, the case of illegal possession of property, as well as the case of illegal possession of a military explosive device and explosives.
The search operation involved members of the Paphos TAE and OPE, and a pyrotechnician from the Paphos Police Department.
Photos from the found