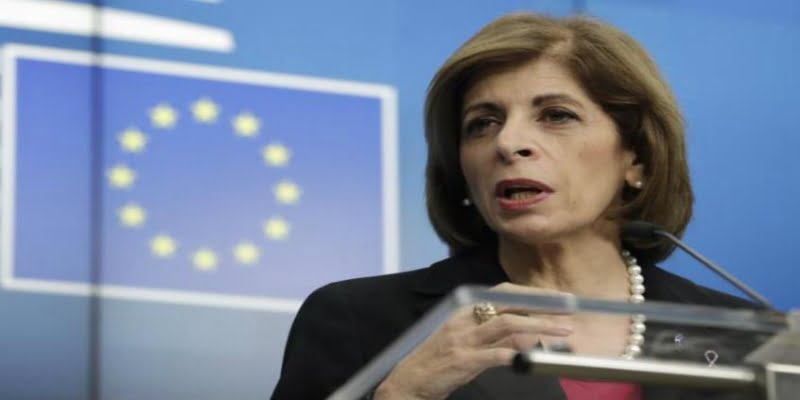 A meeting of EU Health Ministers with the companies producing vaccines for COVID-19 to address the problem faced by member states due to the current oversupply and reduced demand for doses, Health Commissioner Stella Kyriakidou suggested during the morning debate in Employment, Social Policy, Health and Consumers Council (EPSCO), which meets in Brussels on Friday, composed of Ministers of Health.
As Ms. Kyriakidou pointed out in her intervention, the pandemic may not be over but it is no longer an existential threat, as borders are open and life goes on.
She added that the EU vaccine strategy was more successful than anyone expected in 2020, through the solidarity between the member states but also the close cooperation with the production companies.
As epidemiologically Europe is no longer at the height of the crisis, he continued, this affects the demand for vaccines resulting in some member states having lower vaccination levels. At the same time, the effects of the Russian invasion of Ukraine are affecting public finances.
"I am fully aware of the difficulties faced by almost all member states due to oversupply and reduced demand," he continued, stressing that the EE operates on the basis of its contractual obligations, but "we support you in every possible way to renegotiate the contracts".
Ms. Kyriakidou noted that a degree of flexibility has already been achieved, with the rescheduling of deliveries, the replacement of all first-generation vaccines with mRNA vaccines adapted to the variants, and the creation of a common storage area.
"It is important companies to work together with the Member States and the Commission to ensure that the agreements reflect the current situation" said Ms. Kyriakidou, adding that she believes that "to achieve the necessary results, we should continue with a collective negotiating position in this effort."
"Work in the vaccine expert committee must continue to reduce the supply of vaccine doses in the coming years, extending it over a longer period of time to address the needs we have " he added.
"I propose today the convening of a meeting of the committee on vaccines at the political level in early 2023 with the Aries present", he concluded.