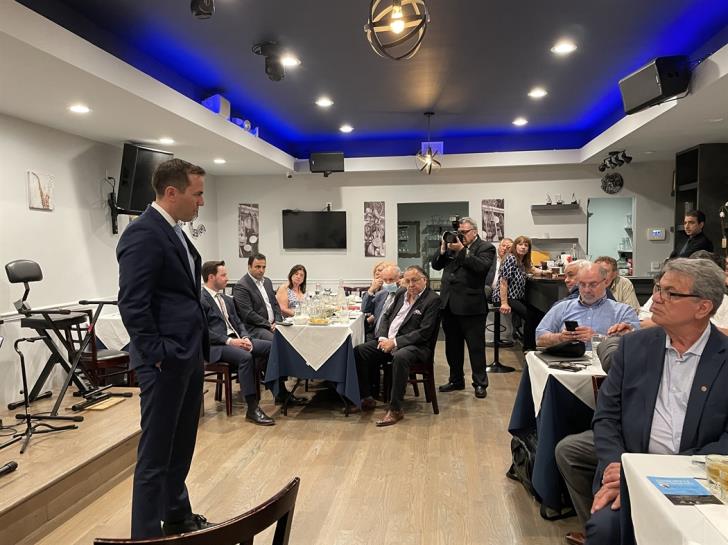 " My goal is to have a final solution to the Cyprus issue. "It's an issue that concerns the United States and I will do my best to resolve it definitively," said Robert Menendez Jr., a New Jersey Federal Reserve candidate and son of Geronto Geroz, chairman of the Gerden Senate Foreign Relations Committee. .
Mr. Menendez, who was in New York for meetings with expatriate organizations, also said that the meeting of Greek Prime Minister Kyriakos Mitsotakis with US President Joe Biden and members of Congress was successful and constructive. "This is the beginning of a constructive cooperation and close relationship between Greece and the United States," he said.
READ ALSO: & nbsp; p>
Robert Menendez Jr. visited New York and had meetings with expatriates at the initiative of the Cypriot organizations in the context of his election campaign.
During his speech, referring to Cyprus and the Cyprus issue, he underlined that he will continue the work that his father started in the Congress. "Until we see Cyprus united, the work is not over. "My father has done an excellent job, but the battle continues to ensure that Cyprus is reunited and free," he said. Menendez came close to Hellenism. "My mother was the link with the family of Tassos Zampas. When they came to America from Cyprus, they met her at a public school in Union City and that is how this relationship and our love for Cyprus began. "Thanks to my mother and this relationship is part of hers, not only to my father," he said. people who help us and we do not forget. Especially what Robert Menendez has offered to Greece and Cyprus ".
KYPE