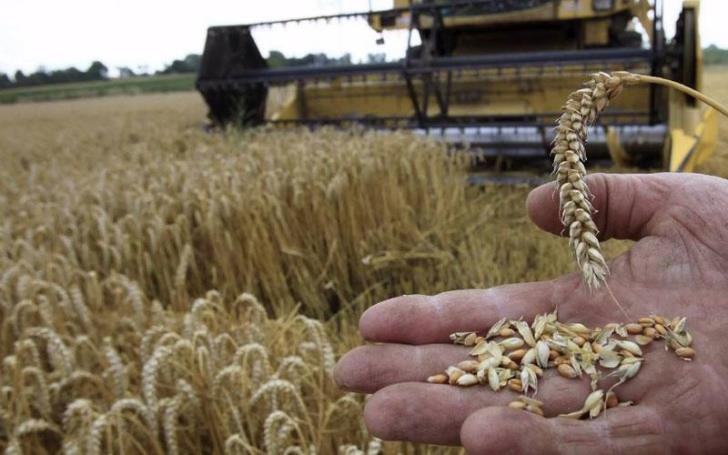 & nbsp & nbsp Άγγελος Νικολάου & nbsp; & nbsp; EU Agriculture Ministers are meeting today via video conference to discuss the latest developments in Ukraine, with a view to addressing the consequences for agriculture following the Russian military invasion. After all, the sanctions imposed so far by the EU in Moscow will have consequences for farmers, but also for consumers. Grain prices are expected to soar as Russia and Ukraine together export more than 30% of wheat and barley, 20% of corn and 50% of sunflower oil and seeds.
The main points of the agenda concern the market situation for agri-food products. According to the Council, the invasion of Ukraine risks disrupting global markets for agricultural products and goods needed for agricultural production, such as energy and fertilizers. Since the beginning of the conflict, it is noted, there has already been a sharp rise in world prices. This further affects markets, which have recently experienced historically high commodity prices.
Therefore, the aim of the informal videoconference, chaired by the French Presidency by the Minister for Agriculture and Food, Julien Denormandie, is to share information and forecasts on supply and prices, to identify issues that require special vigilance, and to consider actions. to be undertaken both domestically and at the level of international cooperation. In addition, ministers will also discuss food supply and security for the Ukrainian people.
traders, in order to avoid price increases as much as possible. & nbsp;
SEE ALSO:
CCCI: The adequacy of Cyprus in energy and grain will war breaks out in Ukraine Risk of price spikes due to war in Ukraine
The Minister of Agriculture of the Republic of Cyprus is expected to put on the teleconference the serious problems already faced by all those involved in the agri-food chain and especially the cattle breeders. In Cyprus, which is a country geographically distant from the EU central market, the problems are much greater and, after the pandemic has hit, the viability of livestock farmers in particular depends to a large extent on the support they receive.
The above actions by the Commission are not unrelated to the fact that the two parties involved, Ukraine and Russia, are among the most important players in the world market for cereals and oilseeds. In particular, Ukraine represents 11% of the world wheat market, 16% for barley, 15% for maize, 16% for oilseed rape, 50% for sunflower oil, 9% for sunflower seed and 61% % for sunflower cake. For Russia, these figures are 20% wheat, 16% barley, 2% corn, 3% for rapeseed and 20% for sunflower cake.
It is noted that Ukraine is its main supplier of corn EU, while covering large imports of rapeseed and sunflower seeds. Russia is also one of the major suppliers of rapeseed cakes, sunflower cakes and sunflower seeds. & Nbsp; 10% depending on the product.
On the other hand, European countries are highly dependent on Russian gas and it is not irrelevant that to date no sanctions have been imposed, but no countermeasures on energy sources. In particular, Russia is the EU's largest supplier of fuel and according to official figures 18% of EU imports come from Russia. More than a quarter of crude oil imports and more than a third of gas imports are of Russian origin. & Nbsp;
Satisfactory stocks for animal feed and human use
Cereals stocks of 3.5 months for human consumption and 1.5 months for animal feed are in the warehouses of Cypriot traders, as they assured the Minister of Agriculture yesterday during a meeting on the prospect of ensuring grain adequacy in Cyprus. Essentially, the sectors involved cited the data with the current situation. All possibilities for cooperation with importers were further examined in order to ensure that in the next period, regardless of the conditions, there will be a sufficient supply of cereals for all uses. & Nbsp;
The Minister of Agriculture instructed his associates in the ministry to evaluate each alternative proposal, to identify the pros and cons of each case, so that if possible even within a week, final decisions can be made. & nbsp;
At the meeting it was decided that ministry officials should be in daily contact with the importers so that they are aware at all times of the new orders and possible problems they face in ordering new shipments for Cyprus. & Nbsp;
As it turned out, Cyprus will not have a problem with cereals. Some price increases are already being recorded internationally, which is expected to affect prices in Cyprus as well.
The action plan that will be drawn up will include all the issues, even the scenario of importing feed from the state itself in case for any reason the traders are unable to keep stocks for a long time. & nbsp;
>
It is noted that Russia is the world's largest producer of cereals and Ukraine is the fifth, so if these countries leave the map of imports, there is an immediate question of adequacy and price. & nbsp;