Recipe by Athena Loizidou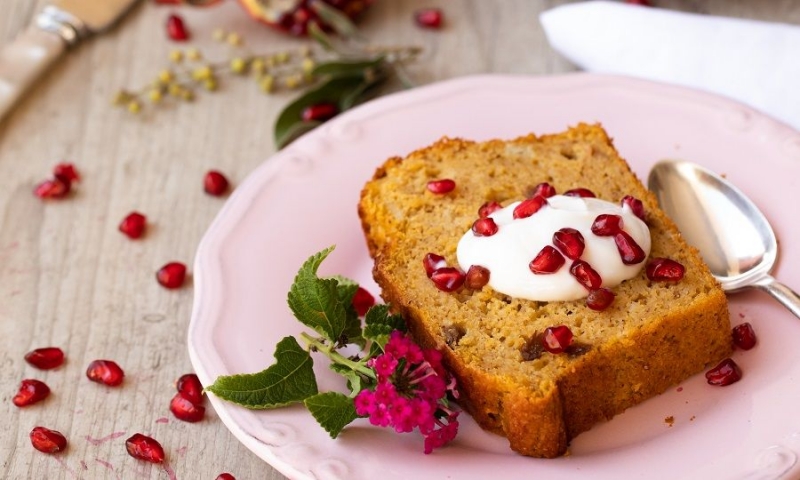 It is made with healthy additives such as banana, maple syrup and wholemeal flour.
Super, juicy and delicious pumpkin bread. It is made with healthy additives such as banana, maple syrup and wholemeal flour.
Preparation time: 1 hour and 10 minutes
Total time: 1 hour 15 minutes
Servings: 10
Calories per 100 g: 150
We will need 1 rectangular pan measuring 33X14 cm
MATERIALS:
3 eggs
130 gr. almond milk
630 gr. pumpkin puree (find how to make it below)
2 tbsp. olive oil
190 gr. (1 ½ large) ripe bananas, melted with a fork
250 gr. real Maple Joe maple syrup
1 tbsp. vanilla
180 gr. whole weat flour
180 gr. flour for all uses
3 tbsp. Fresh grated ginger
1 ½ κ.γ. cinnamon
½ κ.γ. nutmeg
½ κ.γ. salt
2 well full etc. baking powder
80 gr. Dried grapes
To serve (optional):
Yogurt cream (150 g strained yogurt mixed with 30 g powdered sugar)
Pomegranate seeds
EXECUTION:
1. Preheat your oven to 160 ° C in air.
2. Add the eggs, milk, pumpkin, oil, banana, maple syrup and vanilla in a medium bowl and beat until smooth.
3. Add the flour, ginger, cinnamon, nutmeg, salt, baking powder and mix well. Finally, gently stir in the raisins.
4. Transfer the mixture to the pan. Bake on the middle shelf of our oven for 1 hour and 10 minutes. Let the pumpkin bread cool for at least 20 minutes. Remove from the pan and serve with a little yogurt cream and pomegranate seeds, if desired!
5. For the yogurt cream, mix in a bowl of 150 gr. strained yogurt with 30 gr. powdered sugar.
To make pumpkin pulp:
To make the pulp, we buy 2 large pumpkins from the fruit market. Line a large baking tray with foil and place the whole pumpkins on top. Bake in the oven at 200 ° C in air for 4 hours. When the baking time has passed, remove them from the oven and leave them to cool. Peel a squash, grate it and put it in a food processor. Grind for a few minutes until you have a rich pulp. Transfer to portions of 200 gr. each and put in the freezer to freeze. When we need pulp, we just take a portion from the previous night out of the freezer to thaw.