Mr. Panagiotou added that this also includes workers with rheumatic diseases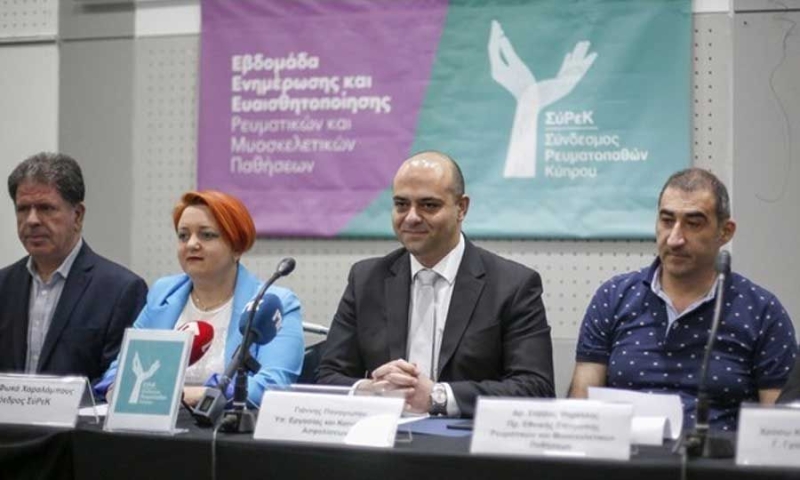 The responsibility and objective of the Ministry of Labor is to ensure that all workers have access to safe and healthy working conditions and are able to perform their work in the best possible way, said in a welcome speech Minister of Labor Yannis Panagiotou at the press conference given by the Rheumatoid Association of Cyprus for the annual rheumatic week which this year will last from May 4 to 14.
As reported by the GTP, the Minister of Egasia added that this also includes workers with rheumatic diseases, who face daily challenges in the workplace that cannot be perceived by those around them, because the potential disability they cause is not visible, but invisible, such as pain, stiffness and fatigue.
He also mentioned that these challenges may include discrimination or difficulty in adapting or accessing support services and he pointed out that for the worker with rheumatism, equal participation in daily activities entails many times more effort than the rest. As a result, many workers with rheumatic diseases may feel forced to leave work or unable to work to their full potential.
He then said that the Ministry of Labour, in collaboration with the Cyprus Patient Association Federation (OSAK), has announced Grant Plans for the recruitment of people with chronic diseases, with a total budget of 5 million euros.
He clarified that the Plans, co-financed by the European Social Fund of the European Union and the Republic of Cyprus, aim to encourage employers to hire people with chronic diseases and are included in the measures of active employment policies promoted by the Government to combat poverty and social exclusion , especially regarding the active inclusion of vulnerable groups of the population in the labor market.
He added that the 3rd Incentive Plan, announced in 2021, continues to be in force with a budget of € 2 million and a target of 100 people and stated that to date there have been 84 placements of unemployed people with chronic diseases. This is a sponsorship granted for 24 months with a specific upper limit.
Furthermore, the Minister of Labor said that his Ministry is promoting alternative forms of employment, such as the teleworking bill which aims to be passed in 2023, as means to help employ vulnerable groups but they will also make it easier for workers with rheumatic and other ailments.
He noted that flexible hours, reduced physical strain and the ability to work during a person's most productive time , offered by telecommuting, are expected to alleviate as well as increase the employability of people with chronic conditions.
He further emphasized that the provision of a safe and healthy work environment is inalienable and fundamental right for every worker, without discrimination, which should be even more guaranteed for people belonging to vulnerable groups including those struggling with rheumatic diseases.