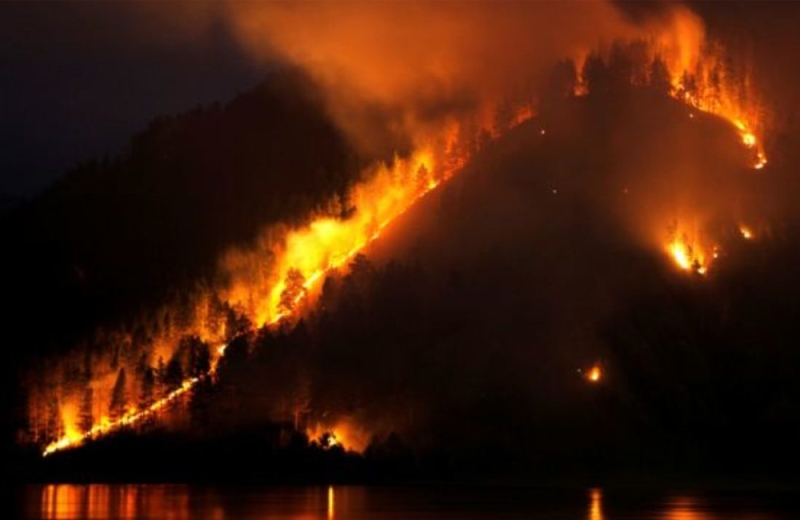 The ongoing disaster in Siberia is huge, with large forest fires burning dozens of acres of forest and residential areas.
Fires have broken out in Krasnoyarsk (eastern Siberia), destroying about 200 buildings and have already cost the lives of at least 5 people, as it became known today Saturday by the local authorities, who declared a state of emergency in the affected areas.
"The fire is spreading to more than 16 residential areas, about 200 buildings, many timber factories, a kindergarten are burning, there are already dead," the area's Ministry of Emergency Situations told the Telegram.
Almost 100 houses turned to ash in Nazyvayevsk, Russia. While the Kremlin has thrown all its energies into the war with Ukraine, Putin facing Armageddon in the own country as raging wildfires spread across Siberia. pic.twitter.com/ptmJOlAmw5

— Alexander Khrebet/Олександр Хребет (@AlexKhrebet) May 7, 2022
Weather conditions do not favor extinction >
At present, five dead have been counted.
Describing the situation as "difficult", the authorities declared the area a state of emergency.
Massive forest fires in Siberia right now.

Maybe it would be better for Russia to focus on more productive things than getting bogged down in a bloody war in Ukraine? pic.twitter.com/omUd5sOsFs

— Visegrád 24 (@visegrad24) May 2, 2022
According to authorities, about 300 firefighters and more than 90 vehicles are involved in firefighting operations.
Soldiers have traditionally played an important part in helping firefighters against wildfires in Russia.

Now, they are all in Ukraine and there's no one to put out the wildfires currently raging in Siberia. pic.twitter.com/P25SjFWwVG

— Visegrád 24 (@visegrad24) May 2, 2022
"The fire brigade operation "The forces are complicated by the meteorological conditions, the stormy winds accelerate the spread of the fires and prevent the extinguishing", added the local ministry.