POWERED BY:
03:26 Saturday
July 2, 2022 INSIDER• GOAL• IN-CYPRUS• PROPERTY• CYPRUS-IS• KARIERA LIKE• GOING OUT• XRYSES SYNTAGES • ACTIVE• PHILGROUP NEWS COMMUNITY INSIDER OPINIONS GOING OUT CULTURE SPORTS AUTO GOOD LIFE USEFUL PRINT VERSION
ΑΡΧΙΚΗΕΙΔΗΣΕΙΣΠΟΛΙΤΙΚΗΤΟΠΙΚΑΠΑΡΑΣΚΗΝΙΟMEDIAΕΛΛΑΔΑΚΟΣΜΟΣΕΠΙΣΤΗΜΗΠΡΟΕΔΡΙΚΕΣ 2023ΤΕΧΝΟΛΟΓΙΑΣΥΝΕΝΤΕΥΞΕΙΣΧΡΥΣΕΣ ΕΤΑΙΡΕΙΕΣΚΟΙΝΩΝΙΑΕΙΔΗΣΕΙΣΚΥΠΡΟΣ ΤΟΥ ΧΘΕΣΑΝΑΓΝΩΣΤΗ ΕΧΕΙΣ ΛΟΓΟΕΠΙΣΤΟΛΕΣΣΥΝΕΝΤΕΥΞΕΙΣΔΗΜΟΦΙΛΗ ΣΤΟ INTERNETVIDEOSΑΦΙΕΡΩΜΑΤΑADVERTORIALINSIDERΕΠΙΧΕΙΡΗΣΕΙΣΚΥΠΡΟΣBRAND VOICECAPITALFORBESBLOOMBERG OPINIONΠΡΩΤΑΓΩΝΙΣΤΕΣΚΑΥΤΗ ΓΡΑΜΜΗΧΡΥΣΕΣ ΕΤΑΙΡΕΙΕΣΚΑΡΙΕΡΑΑΠΟΨΕΙΣΑΡΘΡΑ ΣΤΟΝ "Φ"ΠΑΡΕΜΒΑΣΕΙΣ ΣΤΟΝ "Φ"ΤΟ ΜΗΝΥΜΑ ΣΟΥ ΣΚΙΤΣΑΟ ΚΟΣΜΟΣ ΤΟΥ TWITTERGOING OUTTHINGS TO DOCINEMAΜΟΥΣΙΚΗΕΣΤΙΑΤΟΡΙΑBAR/CAFETV ΟΔΗΓΟΣΤΗΛΕΟΡΑΣΗΠΟΛΙΤΙΣΜΟΣΚΥΠΡΟΣΚΟΣΜΟΣΚΡΙΤΙΚΕΣΕΚΔΗΛΩΣΕΙΣΠΡΟΣΩΠΑΑΘΛΗΤΙΚΑΠΟΔΟΣΦΑΙΡΟΜΠΑΣΚΕΤΠΑΡΑΣΚΗΝΙΑΕΛΛΑΔΑΔΙΕΘΝΗΑΛΛΑ ΣΠΟΡΑΠΟΨΕΙΣΣΚΙΤΣΟVIDEOSAUTOΝΕΑΠΑΡΟΥΣΙΑΣΗΑΠΟΣΤΟΛΕΣΑΓΩΝΕΣΚΑΛΗ ΖΩΗΥΓΕΙΑΔΙΑΤΡΟΦΗΕΥ ΖΗΝΑΣΤΡΑΧΡΥΣΕΣ ΣΥΝΤΑΓΕΣΣΥΝΤΑΓΕΣ ΣΕΦΒΗΜΑ ΒΗΜΑΧΡΗΣΙΜΑΦΑΡΜΑΚΕΙΑΓΙΑΤΡΟΙΑΕΡΟΔΡΟΜΙΑΛΙΜΑΝΙΑΤΗΛΕΦΩΝΑΟΠΑΠΚΑΙΡΟΣΣΥΝΑΛΛΑΓΜΑΛΑΧΕΙΑAPPSΠΡΟΣΦΟΡΕΣΕΝΤΥΠΗ ΕΚΔΟΣΗ ΠΟΛΙΤΙΚΗΤΟΠΙΚΑΠΑΡΑΣΚΗΝΙΟMEDIAΕΛΛΑΔΑΚΟΣΜΟΣΕΠΙΣΤΗΜΗΠΡΟΕΔΡΙΚΕΣ 2023ΤΕΧΝΟΛΟΓΙΑΣΥΝΕΝΤΕΥΞΕΙΣΧΡΥΣΕΣ ΕΤΑΙΡΕΙΕΣ ΕΙΔΗΣΕΙΣΚΥΠΡΟΣ ΤΟΥ ΧΘΕΣΑΝΑΓΝΩΣΤΗ ΕΧΕΙΣ ΛΟΓΟΕΠΙΣΤΟΛΕΣΣΥΝΕΝΤΕΥΞΕΙΣΔΗΜΟΦΙΛΗΣΤΟ INTERNETVIDEOSΑΦΙΕΡΩΜΑΤΑADVERTORIAL ΕΠΙΧΕΙΡΗΣΕΙΣΚΥΠΡΟΣBRAND VOICECAPITALFORBESBLOOMBERG OPINIONΠΡΩΤΑΓΩΝΙΣΤΕΣΚΑΥΤΗ ΓΡΑΜΜΗΧΡΥΣΕΣ ΕΤΑΙΡΕΙΕΣΚΑΡΙΕΡΑ ΑΡΘΡΑ ΣΤΟΝ "Φ"ΠΑΡΕΜΒΑΣΕΙΣ ΣΤΟΝ "Φ"ΤΟ ΜΗΝΥΜΑ ΣΟΥ ΣΚΙΤΣΑΟ ΚΟΣΜΟΣ ΤΟΥ TWITTER THINGS TO DOCINEMAΜΟΥΣΙΚΗΕΣΤΙΑΤΟΡΙΑBAR/CAFETV ΟΔΗΓΟΣΤΗΛΕΟΡΑΣΗ ΚΥΠΡΟΣΚΟΣΜΟΣΚΡΙΤΙΚΕΣΕΚΔΗΛΩΣΕΙΣΠΡΟΣΩΠΑ ΠΟΔΟΣΦΑΙΡΟΜΠΑΣΚΕΤΠΑΡΑΣΚΗΝΙΑΕΛΛΑΔΑΔΙΕΘΝΗΑΛΛΑ ΣΠΟΡΑΠΟΨΕΙΣΣΚΙΤΣΟVIDEOS ΝΕΑΠΑΡΟΥΣΙΑΣΗΑΠΟΣΤΟΛΕΣΑΓΩΝΕΣ ΥΓΕΙΑΔΙΑΤΡΟΦΗΕΥ ΖΗΝΑΣΤΡΑΧΡΥΣΕΣ ΣΥΝΤΑΓΕΣΣΥΝΤΑΓΕΣ ΣΕΦΒΗΜΑ ΒΗΜΑ ΦΑΡΜΑΚΕΙΑΓΙΑΤΡΟΙΑΕΡΟΔΡΟΜΙΑΛΙΜΑΝΙΑΤΗΛΕΦΩΝΑΟΠΑΠΚΑΙΡΟΣΣΥΝΑΛΛΑΓΜΑΛΑΧΕΙΑAPPSΠΡΟΣΦΟΡΕΣ ΕΠΙΧΕΙΡΗΣΕΙΣ ΚΥΠΡΟΣ BRAND VOICE CAPITAL FORBES BLOOMBERG OPINION ΠΡΩΤΑΓΩΝΙΣΤΕΣ ΚΑΥΤΗ GOLD LINE CAREER COMPANIES
EXCLUSIVE COLLABORATION
WITH
Powered by
Next Previous Now Assistant Controller and Assistant Prosecutor HOME • INSIDER • CYPRUS • Now Assistant Controller and Assistant Prosecutor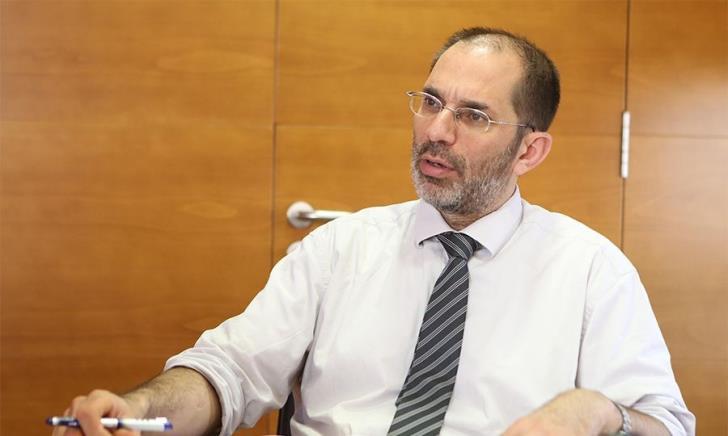 &nbsp&nbspFreedom of Paizanos
Despite the request of the Auditor General Odysseus Michaelidis to delete the disputed provisions in the supplementary budget amounting to €171.8 million that refer to the Assistant Prosecutor, Assistant Auditor and Assistant General Accountant, the Plenary of the Parliament decided otherwise. During the unanimous approval of the supplementary budget, the DIKO amendment proposing the deletion of the specific provisions until the Supreme Court issues its decision to which Mr. Michaelidis appealed (as he requested), did not secure the required majority and did not approved. The 23 MPs from AKEL, DIKO and the Environmentalists were in favor of the amendment, while 24 MPs from the other parties voted against it and there was one abstention.
READ ALSO: Clash of institutions over a word
The Auditor General has appealed to the Court due to the opinion issued last March by the Attorney General Giorgos Savvidis, who proposed/approved a change in the titles of the second rank in the Audit Service, the Legal Service and the General Accounting Office, while a month later a circular had also issued the Ministry of Finance accepting the opinion. However, in the event that the court decision is contrary to the Parliament's decision, then the situation is expected to become even more complicated. issue between DISY and AKEL MPs. The former argued that the Court will not rule on the merits of the case, while the latter claimed the opposite.
At the same time, yesterday the Plenary approved by a majority the AKEL amendment, with which a €5.8 fund is crossed out. million, which concerns the granting of credits for the purpose of repaying the port workers' loan, against the reductions of charging fees at the Port of Limassol. In addition, AKEL's verbal amendment was also approved by the host, which commits a fund of €43,600, which was intended to be spent on the construction of the Griva Digeni Museum. As argued by AKEL, the specific fund is already committed to the state budget, while the government included it under another name in the supplementary budget, in order to mislead the Parliament!
Eleftheria Paizanou