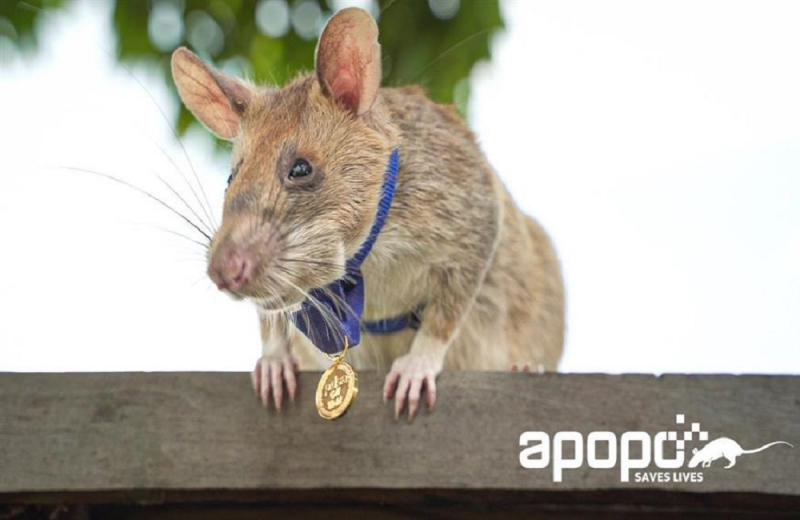 Magawa, a giant African rat originally from Tanzania, helped locate mines from some 225,000 square feet [225,000 sq m] – as many as 42 football fields – during his career as a minesweeper!
Magaua is estimated to have located more than 100 anti-personnel mines and other explosives before retiring from active duty last June.
"Magaua died peacefully this weekend at the age of eight," said Belgian charity APOPO, an organization that has trained rodents to detect explosives and ammunition. "All of us at APOPO are saddened by the loss of Magawa and we are grateful for the excellent work he has done," the team said in a statement.
APOPO also said that Magaua was in good health and spent most of last week playing with his usual enthusiasm. But over the weekend, he "began to gain weight, sleep more and show less interest in his food," the charity said.
APOPO trained Magaua to detect chemical compounds in explosives by rewarding him with delicious treats such as bananas and peanuts. He warned the miners by scraping the ground with his front feet, after first locating the mines with "his amazing smell".
Magaua was able to cover an area the size of a tennis court in 30 minutes, which would take at least four days if they used a conventional metal detector.
Medal for Magaua!
In September 2020, the famous rodent won the medal of highest price for animals in Britain for its bravery and ability to detect landmines and ammunition.
Magaua was the first rat to receive a medal from the British veterinary charity PDSA at the 77th anniversary of the awards, entering the book with a group of brave fangs, felines and even a pigeon.
Millions of landmines were planted in Cambodia during the country's three-decade-long civil war, which ended in 1998 and left tens of thousands dead.
Three Cambodian minesweepers were killed Monday by anti-tank mines that exploded as they tried to deactivate them, and just 20 minutes earlier, in the same village, a man burning dry grass on his farm was killed by a remnant of wartime ammunition.