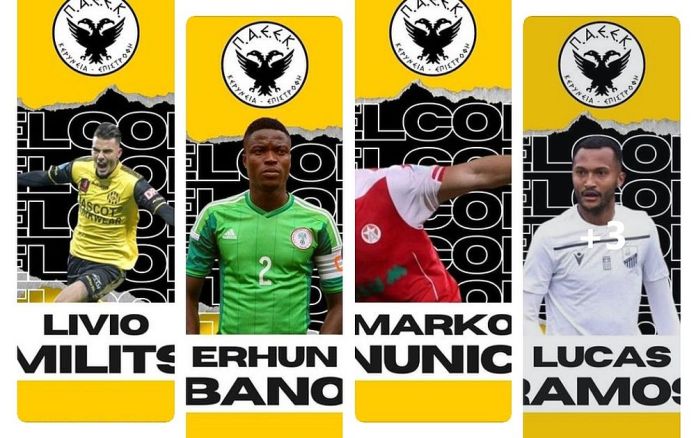 The fans have known for years that our teams are entitled to make four additions to their roster in the January transfer window, including List B players.
PAEEK, however, this winter, proceeded with seven transfers, a fact that is logical to have caused ρίες questions, which we are trying to solve.
In the "registration and transfer regulations" of the KOP there are some "windows" for more than four transfers, which, however, our teams are not used to, something that, on the contrary, PAEEK did to the maximum extent, taking advantage of these three additional footballers.
Specifically, in addition to four professional footballers, our teams can acquire: a) professional players who are free before the start of the season and are registered in the KOP register (point 6A in the regulation), b) amateurs who are registered in the KOP register and have not played in an official KOP match this season (point 6D), c) players under the age of 18 who have not played in an official match in any country this season (point 6E) and d ) up to two amateurs, regardless of whether they played in an official match, but who will have the consent of their previous team for their transfer.
In our communication with PAEEK, it was clarified to us which "window" each of the three παί additional players acquired by the Kyrenia team belongs to.
17-year-old Konstantinos Pattichis (midfielder) was acquired through point 6E as he is under 18 years old and has not played in an official match in the 2021/22 season, while the cases of the two Dutchmen, Nick Kaimolen (21-year-old midfielder) and Thais van Ameronhen (22-year-old) central defender) are included in point 6F as they are amateurs, who played in the current season, but there is consent from their former team for their transfer to PAEEK (the first played in APEA Akrotiri and the second in Dutch Duno, fifth category) .
We remind you that, in terms of professionals, PAEEK acquired Livio Miltz (24-year-old Belgian winger), Erhun Obanor (26-year-old Nigerian central defender), Marko Nunic (28-year-old Slovenian striker) and 27-year-old Lucas Ruzlia.