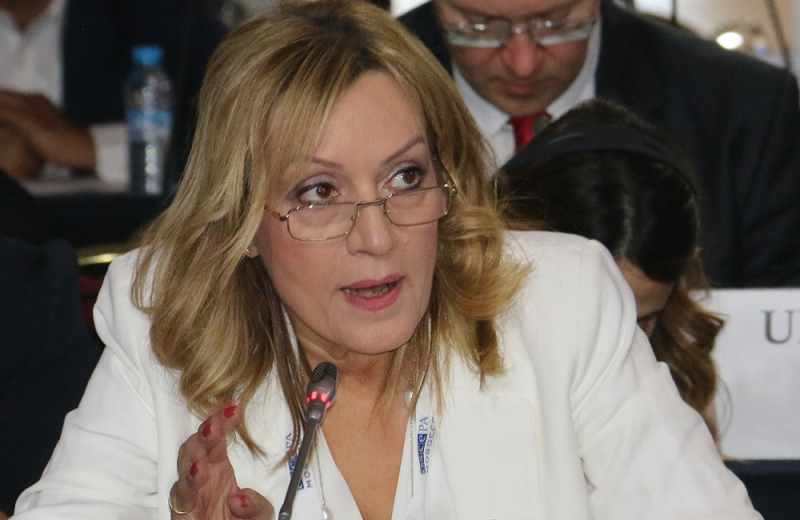 On the occasion of today's meeting of the General Secretary of AKEL with the president of DIKO, which takes place with the subject of discussion the presidential elections and the possibility of cooperation between the two parties, the AKEL MP & # 8211; Left & # 8211; New Forces, Irini Charalambidou, in the context of her interview with Politis 107.6 & amp; 97, was asked to comment on her high popularity which shows opinion polls in relation to the debates on the presidential candidacy. "It is the human side, I am undoubtedly happy, it shows that the people accept, understand, the efforts I make from the first day of my election to parliament. On the other hand, I tell you that such an issue has never been raised, "said Ms. Charalambidou.
Q. Are you interested in the Presidency of the Republic? Would you say "no" or "yes" if someone suggested it to you, your party?
Answer The answer is not so simple. I mean I can not answer you with a "yes" or a "no" & # 8211; to tell you why. It depends on how this proposal will be made and under what conditions. And with what commitments. If the commitments are such that they invalidate a person's conscience, then I certainly answer clearly that I am not interested in such a perspective. Therefore you can not give a "yes" or "no" answer.
It is noted that in an article of "F" on Sunday, entitled "& # 8221; Typhoon & # 8221; Peace for Presidential Elections "states that according to the results of a survey by" Kapa Research ", when asked who/who would have the most chances to win the elections in case of cooperation between AKEL & # 8211; DIKO, Irini Charalambidou comes first with 19%. They are followed by Erato Kozakou Markoulli with 15%, George Pamporidis with 12%, Christos Stylianidis and Achilleas Dimitriadis with 8% and finally the university student Tassos Christofidis with 1%. 26% said they did not know and 10% did not answer. In the same question but based on AKEL, DIKO and EDEK voters, Irini Charalambidou receives 26%, Erato Kozakou Markoulli 19%, Achilleas Dimitriadis 12%, George Pamporidis 9%, Christos Stylianidis 5% and Christos Stifidos Christos 5% 1%. I do not know answered 21% and I do not answer 8%.
Asked what her relations are with AKEL, as her party is trying to "bury" her in the party base groups (KOV) due to her public disagreement over the possibility of a Pamporidis candidacy, Irini Charalambidou answered, among other things, the following : "From my personal point of view, I have been serving the Left faction since 2011 with incredible consistency and dedication. Beyond that, if a self-evident attitude – as I said last time – caused such a stir, it honestly makes me wonder why. "
I was asked to say why she is not running as an independent candidate, As Nikos Christodoulidis will do, for example, Irini Charalambidou replied that she serves her party consistently and -regardless of whether she agrees or disagrees with certain decisions- she will not do anything that will cause her to hurt the Left.
Irini Charalambidou is chair of the Parliamentary Human Rights Committee, Special Representative of the OSCE Central Committee for the Fight against Corruption and one of the Vice-Presidents of the OSCE Central Committee. In her first capacity she spoke on the same show on the subject of children in special education discussed yesterday in the Parliamentary Committee on Human Rights and in her second capacity she referred to the recent Winter Meeting of the OSCE Central Committee in Vienna, during which the Russian invasion of Ukraine.
Listen to the intervention of Irini Charalambidou in the show "Morning Inspection" broadcast by Politis 107.6 and 97.6: