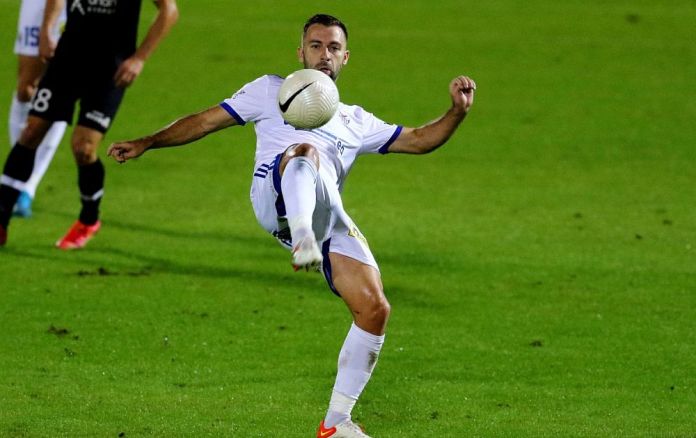 Joseph Hussbauer was a guest on Cablenet's show "ANOla sto fora" on Tuesday night (18/1), with the Czech midfielder from Anorthosis talking about the course of the "Lady", his own performance and more.
Read in detail what he said…
For the course of Anorthosis: "We did not start well, we lost games, and because we played in the Conference and there were many games. Some we lost were stupid, especially those with Doxa, Olympiakos, PAEEK. But now I think after the groups we played good games, especially the last four. Our goal now is six, we have a difficult program, we play a cup or a championship every four days. We have a good opportunity to seal the six and then to chase the goal which is the championship, but step by step ".
If he thinks that things could have been very different and what was wrong: "With PAEEK for example, I do not know what to say; as I said it was stupid. We played well, we conceded goals very easily, we had opportunities and we did not score. They made a goal filling, a second… goal filling ".
Where Anorthosis is superior and where it lags compared to last year: "This year we are a better team, we have more quality individually. Lazaros, Warda, amazing players, Popovic also very smart. But we also play as a team. "We all think we are a very good team, we just needed some good games."
On the atmosphere in the team and the relations between the players: "In the locker rooms there is a very good team spirit, there are very good children. I talk more with Korea, he is one of the funny guys, also Warda… is amazing, every day his mood is very good, you need such a player. "He is also amazing on the pitch."
About the fact that he has climbed this year and what has changed: "Yes, I am having a better season than last year. Last year the situation was difficult for me after the semester at Dinamo Dresden. I was not ready. I came, I did not feel ready. It was also 40 points, very different from that in Prague, I remember that in my second game with Paphos we played 4 in the afternoon and I felt that this was not possible, how did we play? I know I was not good, the first six months my performance was not good. I had to change, I changed a little how I think, I lost fat, 4-5 kilos and then I felt better. "This season I feel like a different person."
About the fact that this year is very basic and how he felt when he wore the armband: "I am very happy about that. Like I said I feel better this year and I am very happy that this year the coach trusts me this year and gives me the opportunity to show who I am. He showed me that he wants me in the team ".
For his future, even if he wants to renew in Anorthosis: "Good question. Yes, I want to stay here. I like the team. It has a history, the fans are so amazing, fanatical, the atmosphere is something different from the Czech Republic and I'm very happy here, so yes. My contract is expiring, we will see what happens. "Now I'm focusing on the next game and we'll see."
For Novotny: "I am very happy for him. He fought hard in his first game, we needed just that kind of aggression, to fight for everyone. If he finds in the next game or in the next games, his first goal will become better and better ".
For Verhovets: "I saw him twice in training, he looks like a very good player. I think he will help us, we will see when he plays. It is important, in the two positions of the center we are only Artymatas and I, we play a lot of games, it will help, there will be more competition, we will see ".
If he expected this level of Cypriot football: "In the Czech Republic, everyone thinks that the level in Cyprus is not good, they know APOEL. Slavia and I played with him and lost. Yes, my point of view has changed because there is a lot of quality, especially in the top teams. There are experienced and good players. I think some teams are better than the Czechs and I think now the league is better than the Czech one. There only 2-3 teams are good, here there are 6-7 at a very high level ".
His message to the world: "I want to thank them for their support and tell them that I believe we will win the championship this year."