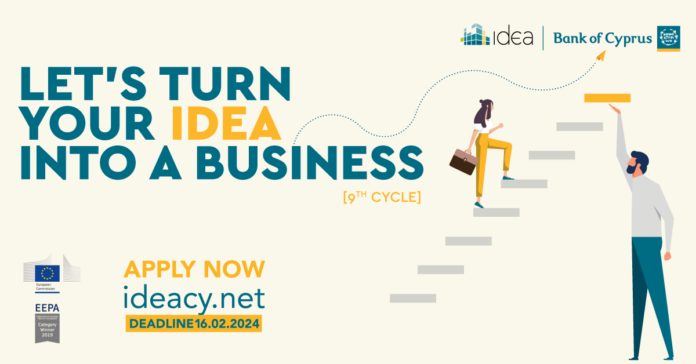 *Text in English follows
< strong>Open call until February 16, 2024
The IDEA Innovation Center of the Bank of Cyprus accepts new applications from people with innovative ideas that have prospects of turning into start-ups , known as startups.
IDEA, is the largest innovation and business support center in Cyprus and for the 9th year it opens the Program cycle for Startups, distinguished for their potential:
To develop an innovative product or service, or solve an existing problem in an innovative way.
Have a dedicated and capable team of at least two founders/members.
Have the potential to expand into the international market through technology.
Through IDEA's Nine Month Program, each startup is offered a complete support package to strengthen its business journey, such as:
€20,000 in seed capital
Business training to create of the business.
Mentoring by established entrepreneurs.
Services in legal, accounting, marketing & technology (ICT).
Connections with entrepreneurs (business development), networking and access to potential investors (angel investors).
IDEA reinforces Bank of Cyprus' commitment to the essential support of innovation, entrepreneurship and digital of transformation in Cyprus.
To date, IDEA has supported 89 start-ups and created more than 100 new jobs. His startups have attracted significant investment funds and business partnerships from abroad and Cyprus, have opened offices and/or hired staff.
Learn more:
< ul>
ideacy.net
Tel: 22 128144
Email: [email protected]
Open call until 16 February 2024
 IDEA Innovation Center of Bank of Cyprus is accepting applications from talented entrepreneurs who have an innovative idea and are determined to turn it into a startup business.
IDEA is the largest innovation and business support organization in Cyprus, and it launches the 9th call to its Startup Program, seeking for startups that:
Develop an innovative product or service, or solve an existing problem in an innovative way.
Have a dedicated and competent team of at least two founders/members.
Have the potential to expand into the international market through technology.

< /ul>

Through its nine-month Program, IDEAoffers each startup a comprehensive business support package to enhance its entrepreneurial journey, as follows:

€20,000 in seed capital.
Business-creation training to establish a business.< /li>
Mentoring from accomplished entrepreneurs.
Services for legal, accounting, marketing and ICT matters.
Business development, networking and access to angel investors.

IDEA is reinforcing the commitment of Bank of Cyprus in fostering innovation, entrepreneurship, and digital transformation in Cyprus.

IDEA has supported to-date the establishment of 89 startups < /strong>and created over 100 new jobs. Its startups have attracted investment capital and business partnerships from Cyprus and abroad, have established their own offices and/or employ staff of their own.

Find out more:

www.ideacy.net
Tel: 22 128144
Email: [email  protected]