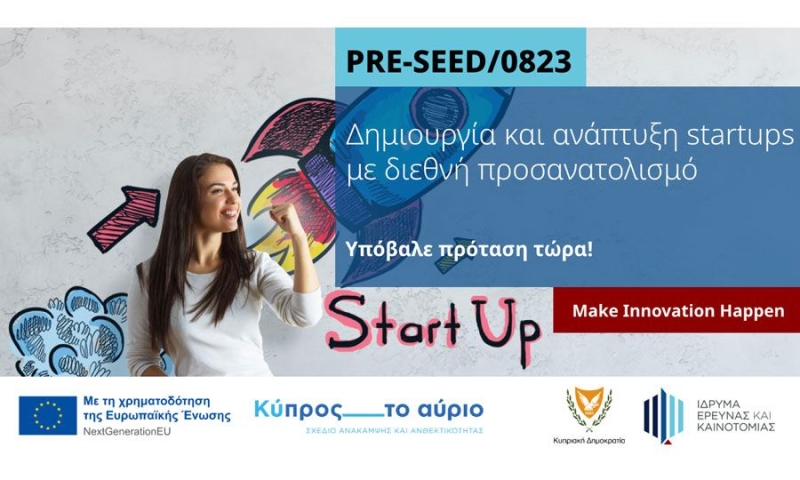 The Foundation of Research and Innovation (IdEK) announces the new call for proposals under the PRE-SEED program, which provides funding of up to €119,999 and free innovation and knowledge transfer support services to ambitious entrepreneurs and early-stage startups of their development.
The PRE-SEED program supports the further development of innovative ideas and the creation of new products and services that are still at an early stage, laying the foundations for the creation of sustainable businesses. With the aim of accelerating the development of a startup, the financing covers, among other things, the first steps of operation, the recruitment of staff, the development of a prototype, the drawing up of a business plan, but also the activities related to marketing and branding.
In his statement, the Director General of IdEK, Mr. Theodoros Loukaidis, said: "The PRE-SEED program supports founders who are at the beginning of the journey towards the development of innovative products and services that can penetrate international markets. They can be in any field. These may be ideas that are still on paper or in the very early stages of product or service development."
Regarding previous calls of the PRE-SEED program, Mr. Loukaidis pointed out that "the program provides the necessary support that a start-up company needs. We have seen startups that secured funding through the program go on to raise private equity. Several of them already have customers as well as products and services on the market, while others are at a more mature stage and closer to launching their products on international markets. Through this new round of funding we expect even more success stories and startups with equally impressive results and an even greater impact for the country". November 3rd 2023.
For more information, those interested can register for the informational webinar organized by the İDEK on September 8 at 10:30 a.m. or contact the Foundation's Partner Service Center, at tel.: 22205000. For registration: https://us06web.zoom.us/webinar/register/WN_4QGu2M3hScisHRvhxVc8CA#/registration
The Program funded by the Recovery and Resilience Plan "Cyprus Tomorrow".
< iframe width='300px' height='500px' src='https://www.adstorebluebird.cy/api/banner/ServeBanner?zoneId=2734' frameborder='0' scrolling='no'>