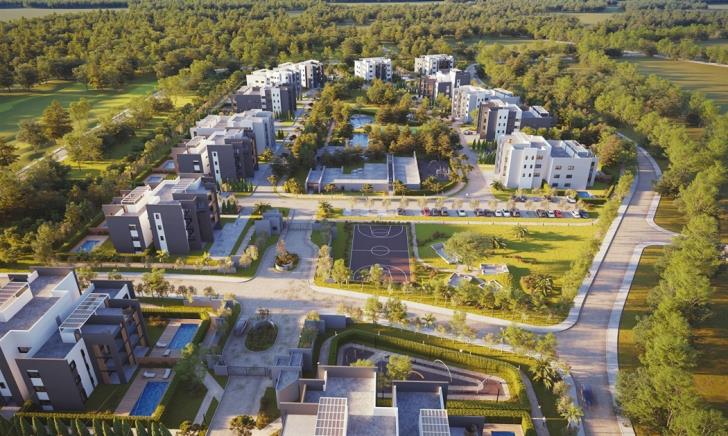 The first gated community and one of the most innovative, ecologically sustainable and integrated housing projects in Cyprus
The construction of the second phase of Sunset Gardens, the first integrated residential community in Cyprus, has been announced by Imperio.
The contract for the construction of phase B of the project was signed on Wednesday, March 9, 2022, between Imperio and the contractor Zemco.
The Sunset Gardens, with a total value of 100 million euros, which is located in a privileged location in the promising area of ​​western Limassol, close to the City of Dreams Mediterranean, is one of the most innovative, ecologically sustainable and integrated housing projects in Cyprus.
The second phase of the project includes the construction of 220 apartments, as well as a number of other facilities, such as restaurant, supermarket, business center, gym, basketball and tennis courts, sidewalks and bike paths.
>
At the same time, the delivery of the 110 apartments of the first phase of Sunset Gardens is scheduled for July, the construction works of which started in September 2020. The project is scheduled to be completed in the last quarter of 2023.
In a statement, the CEO of Sunset Gardens, Nikolas Agiomamitis said that "the project is a complete solution for permanent residence or office space at a reasonable price, hence the interest of young couples and professionals to acquire an apartment within Sunset Gardens is very large. "Since the start of construction, more than 130 apartments have been sold, while interest continues unabated, which confirms our initial estimates that the local market needs such developments."
For his part, the Managing Director of Zemco Constructions, Artemis Iakovou, stressed that the work at Sunset Gardens is proceeding normally, noting that "special emphasis is placed on maintaining the quality standards of each construction and the strict observance of safety measures inside and outside the construction site. It is recalled that Sunset Gardens is located in a privileged location, which is only one kilometer from Lady's Mile beach, 10 kilometers from the business and commercial zone of Limassol, while it is adjacent to the largest multi-themed resort. of Europe, the City of Dreams Mediterranean, which is expected to open its gates in the second half of 2022.
It is worth noting that the execution of the contract is expected to bring multiple benefits to the Cypriot economy, creating hundreds of new positions both in the construction and services sectors.
For more information on Sunset Gardens , visit the & nbsp; project website .