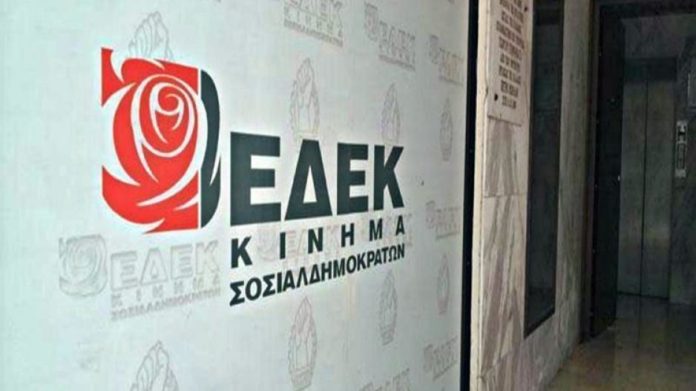 Following the consultations in the last days on the state budget, EDEK was satisfied with the decisions taken by the Government and gave the "green light" for the vote in favor of the revised state budget.
The announcement of the Politburo of EDEK:
The EDEK Politburo unanimously authorizes the parliamentary group to vote in favor of the revised state budget
During today's online meeting of the Politburo of EDEK, the President of the Party informed the members about the proposals submitted by the party to the government with the aim of making the new state budget more anthropocentric.
In view of the inclusion of the following proposals of EDEK in the revised budget and the current announcements of the government for the creation of a special court for financial cases with freezing of sales until the trial of the case, the Politburo of the party estimates that the goal it had set for network of protection of vulnerable groups of the population, is largely satisfied.
It therefore unanimously decided to authorize the parliamentary group to vote in favor of the revised 2021 state budget.
The proposals of EDEK that were included in the budget or adopted by the government are listed:
Determination of minimum pension.
Granting a pension in the 63rd year to workers in heavy and unhealthy occupations without cutting the 12%.
Subsidizing working mothers to care for their children in daycare centers.
Granting early retirement to patients with thalassemia without any cuts (already implemented).
Increase of the amount of the subsidy for the acquisition of a house in the 259 disadvantaged (remote, mountainous, with a reduced population) communities from 10 thousand to 30 thousand euros.
Inclusion in the plan of the remaining 134 communities with an amount of 15-20 thousand euros.
Extension of the urban amnesty time by one year (until 31/12/2022).
Promotion of a program for the installation of photovoltaic systems in the residences of permanent residents of mountainous and semi-mountainous communities in order to reduce the price of electricity they pay.
Combating tax evasion and speeding up the process of refunding to the beneficiaries of VAT and Income Tax.
Addition to the budget of the necessary amount for the promotion of the SYP and the volunteer NCOs of the Armed Forces.
Establishment of a special court for financial cases (sales).
Submitting a request to the legal service for an opinion on whether, according to the current legislation of GESS, patients are entitled to receive medicines and consumables included in the special lists prescribed by specialist doctors outside GESS.
Accelerate the process of residential development for the purpose of owning agricultural parcels which fall within the framework determined by the procedure of granting a permit by way of derogation.
Promise to develop a program to deal with the low birth rate and support large families.