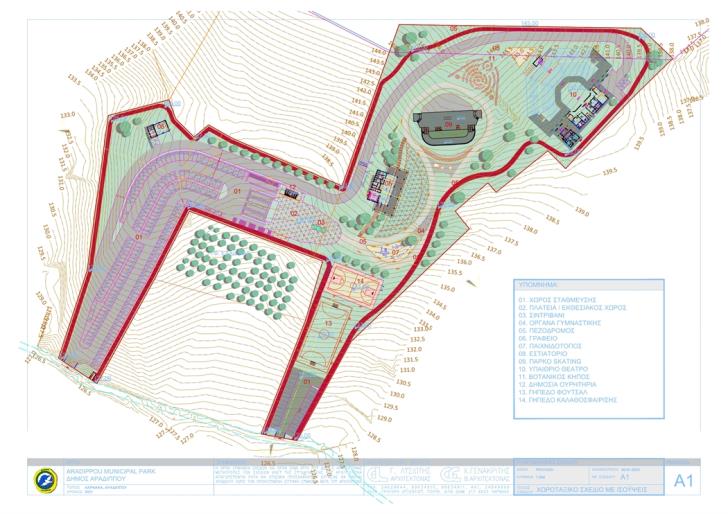 Insider
The Municipality of Aradippou is waiting for the issuance of the urban planning permits to start the implementation of a large-scale project. This is the creation of a multi-theme park which will be developed in an area of 33,994 square meters, between the Kofinarka area (also known as the Pascal area, due to the well-known educational institution) and the church of Panagia Aimatousis (also known as Panagia ton Ampelis) .
The whole plot is located in the Parish of Apostolos Loukas and now belongs to the jurisdiction and management of the Municipality of Aradippou.
SEE ALSO: The Municipality of Aradippou became a member of ETAP Larnaca
The Mayor of Aradippou, Evangelos Evangelidis, stated that "our Municipality has proceeded in recent years with the plans for the development of this plot and now, with the contract we signed in the land registry, we are ready to proceed with the issuance of the urban planning permit to begin work." .
The park will include recreation and green areas, a restaurant, a fountain and a botanical garden. It will also include modern outdoor futsal, tennis and basketball facilities, which will be combined with a skating park, fitness equipment and bike paths. The most impressive point of the park will be the open-air theater with more than 1000 seats, while there will be provision for places for cultural activities.
"A remarkable study has been done to make this place, beyond a place of recreation and wellness, a meeting point of culture and tradition", stressed Mr. Evangelidis.
The project, according to the municipal engineer Mr. Andreas Dimitriou, will start immediately with the issuance of urban planning permits and will take about 2 years to complete. The cost is estimated at 1.5 million euros.