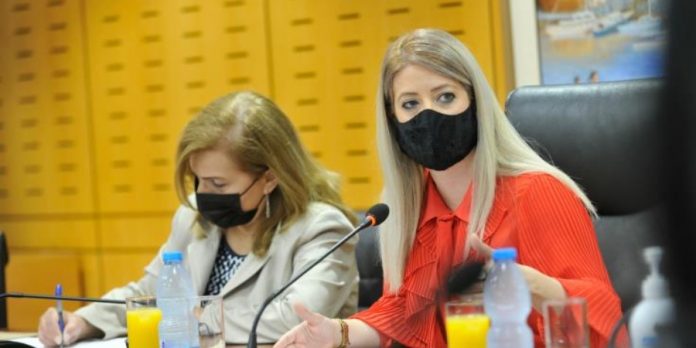 The Speaker of the Parliament Annita Dimitriou will go to Athens on Sunday for an official visit and contacts with the political and ecclesiastical leadership, at the invitation of the Speaker of the Greek Parliament Konstantinos Tassoulas.
An announcement of the Parliament states that this is the first official visit of Mrs. Dimitriou as Speaker of the House of Representatives. During her stay in Athens, she will be received by the President of the Hellenic Republic Aikaterini Sakellaropoulou and the Prime Minister Kyriakos Mitsotakis and will have a meeting with her Greek counterpart, who will host an official dinner in her honor.
Ms. Dimitriou will also have a meeting with the Archbishop of Athens and All Greece Ieronymos and separate meetings with leaders and representatives of the parliamentary parties, as well as with the Minister of Foreign Affairs Nikos Dendias. A meeting will also be held with the Mayor of Athens, Costas Bakogiannis, as well as with a delegation of the Panhellenic Association of Relatives of Missing Persons of the Cyprus Tragedy.
By decision of the Speaker of Parliament and in consultation with the host country, a sum of money intended for the purchase of gifts, which would be offered by Mrs. Dimitriou during her official visit, will be allocated, in part, as a monetary contribution, to the "Hope – Association of Friends of Children with Cancer" and the remaining amount, for the purchase of basic necessities for women victims of all forms of violence and their children, hosted in the 19 Hostels of Abused Women in the Network of Structures of the General Secretariat of Demography and Family Policy and Gender Equality in Greece.
The contribution of the House of Representatives to the "Hope – Association of Friends of Children with Cancer" will be handed over by Mrs. Dimitriou to the President of the Association Mrs. Marianna Vardinogianni, in their meeting at the Children's Oncology Unit "MARIANNA VAGARD".
The Speaker of Parliament will also personally deliver the contribution to the Counseling Center for Abused Women in Athens, during her visit there, in the presence of the Deputy Minister for Demographic Policy and the Family of Maria Syregela.
Mrs. Dimitriou returns to Cyprus on Wednesday, October 13.
source: TO THEMA ONLINE