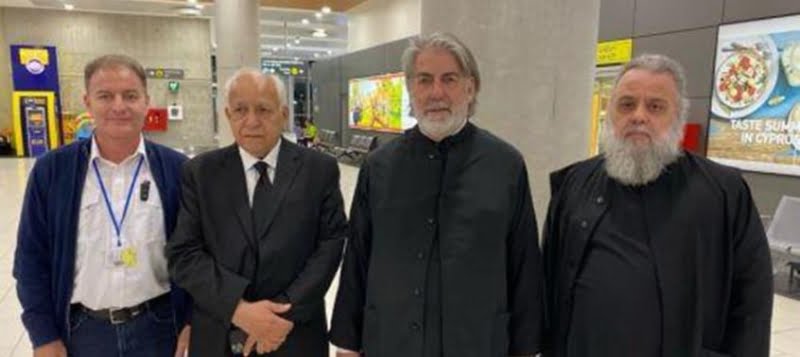 Tonight at 19:00 the Archbishop of Thyatira and Great Britain Nikitas will arrive in Cyprus from the United Kingdom to attend the funeral procession of the Archbishop of Nea Justiniana and All Cyprus Chrysostomos V.
At Larnaca International Airport Glaukos Cleridis Archbishop Nikitas was welcomed by Metropolitan Nektarios of Kiti on behalf of the Church of Cyprus. The adviser of the Archbishop of Thyatira and Great Britain, Nikita Pantelis Demosthenos, was also present.
Answering a question about what he remembers from his last meeting, he said that "I think only one word describes everything. His paternal love and affection. He embraced me not only as his child".
"I had said that I remembered the parable of the Prodigal. When the son returned home and his father was waiting for him and dressed him in the best, he also put a ring on him, he put an Engolpius, a cross, he dressed me in everything, but more with his paternal love, which is indescribable" , he added.
"I'm very sad," he said. "When I saw him we talked and discussed by ourselves. He told me a few things and I gave him my word that I will support the rights of both the Church of Cyprus and the people of Cyprus", he added.
I told him, he noted, "I hope the next time I am here to operate in a free and united Cyprus, but unfortunately I came for other things. It is an honor for me that the Ecumenical Patriarchate contacted me to accompany Ecumenical Patriarch Bartholomew to be together. Unfortunately, however, in the funeral service for the Blessed Archbishop".
When asked what he keeps from the man Chrysostomos, the Archbishop replied "again his paternal love and the smile he had. But he talked to me like I was his child. But the other thing I liked is that he said whatever he had to say. This is how people should be right. And he was a proper honest, true and humble Head of State but unfortunately we lost him".
"God will not leave the Church and he will not leave the people", he said.