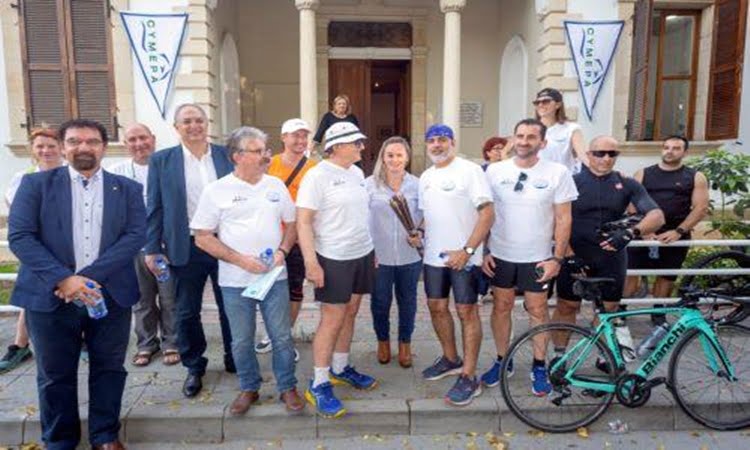 The young people's message that we have run out of time was also sent by Cyprus on Monday, as part of its participation, with 17 other countries, in the largest relay for climate change and with the final recipient being the United Nations Summit (COP27) that begins next week in Sharm el-Sheikh, Egypt.
Download the CYPRUS TIMES APP! HERE for Android and HERE for iOS
The baton, which started from Glasgow, Scotland, arrived in Paphos in the morning and was carried by cyclists to the offices of the Cyprus Marine Environment Protection Association (CYMEPA), in Limassol. where it was delivered to runners, among them the Deputy Minister of Shipping, Vassilis Dimitriadis and the CEO of the Cyprus Chamber of Shipping, Thomas Kazakos.
The short baton handover ceremony was held in the presence of the Minister of Agriculture, Kosta Kadis, who stated that this is an excellent initiative, an impressive undertaking, since a distance of more than 7,767 kilometers will be covered by runners, cyclists, rowers, "people who want to send an important message to the leaders of the countries".
"Surely this message will also be conveyed to the political leadership of the country", said Mr. Kadis, adding that our country will have a leading role "after on the sidelines of the Synod, the initiative of the PtD to coordinate the countries of the region to deal with the effects of climate change, especially in our region, will be presented".
It is, he continued, an initiative that is co-organized with the President of Egypt and certainly the role of young people in this effort is decisive and he underlined that "we definitely want more ambitious goals to be set and I think that Europe is a pioneer in this effort".