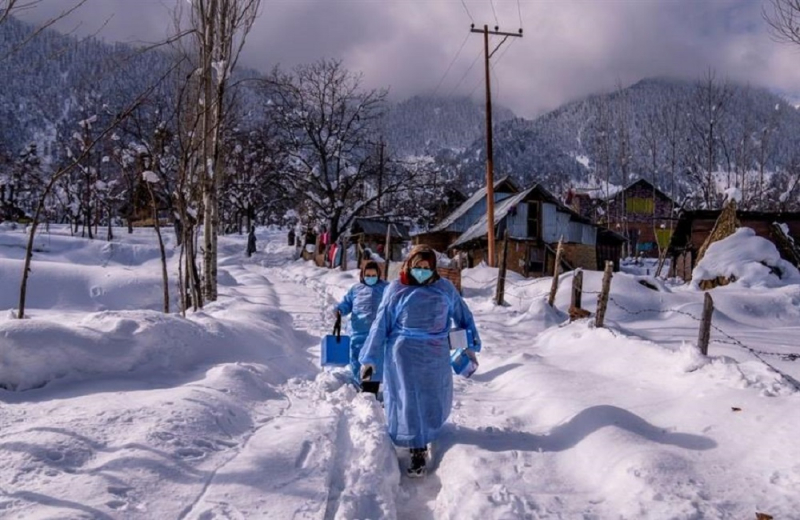 A cold January morning in India-controlled Kashmir, the Himalayan villages, the Masrat Farid, working in the health sector, fills the bag vaccines, as strong winds and snow rage. Farid is a member of a door-to-door health team in the area, which aims to vaccinate adolescents and vaccinate the elderly in remote mountain villages.
"We have to fight the virus. "We have to keep going," she told the Associated Press as she passed through the snow that reached her knees in Gagangeer – a small village in the woods. She and her colleagues have vaccinated thousands of people in the last year, mainly in villages where, in order to reach them, they have to travel long distances in the inaccessible countryside. However, polar temperatures and snow, which make everything more difficult, are not the only obstacles they face.
The biggest enemy is prejudice
Residents' distrust of vaccination remains a far greater obstacle than the winter of the world's highest mountain range. " Misinformation and mistrust make most young girls intimidated ," Farid said during a vaccination campaign in one of the most inaccessible, mountain villages, citing fears raised by the unreasonable notion that vaccination affects or even hinders pregnancy. "We must not only give them the coronavirus vaccine, we must also gain their trust. And this is done only by educating them ", he notes.
The new phase of vaccinations for the Farid group includes adolescents aged 15 to 18 years for their first dose, as well as the elderly, over 60 , for their souvenirs, which Indian scientists call "preventive" and given to high-risk groups. who were among the first to receive the vaccines last year, whose immunity is now declining.
Farid's collaborator Jafar Ali told the Associated Press that, unlike last year, when he and his colleagues were lynched by locals during the vaccination campaign, as many believed the vaccines were causing disability, serious side effects. or even death , so far, the biggest challenge he has faced has been the difficult weather conditions.
Vaccination rates in the region of 14 million inhabitants to date exceed 72%, according to official data. Recently, health workers defied the heavy snowfall and were transported to besieged villages on foot in order to vaccinate residents.
Arsa, an elderly blind woman, also expressed her gratitude to the group that visited her house in the snow, in order for her to make her commemorative dose. "It would be impossible for me to be transported to the hospital in this bad weather. "My gratitude is unlimited," he stressed.