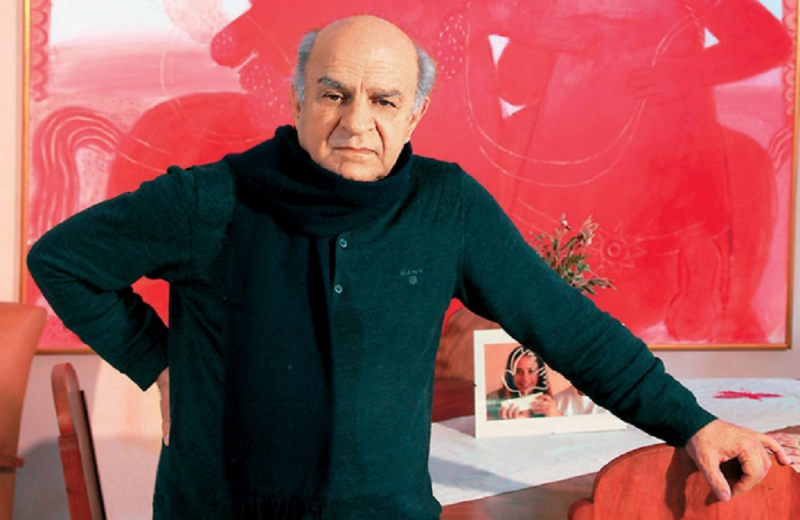 Interview with Manolis Kalatzis / Photo: Giannis Bastardis
The meeting with the great painter took place six years ago and the interview was published in the cultural insert of "Politis", "Parathyro "
What can one write about the art of Aleko Fasianos when all two poets have said it all. Louis Aragon needed only 10 words: "Oh, Fassiane, you taught us a new way to love." Nobel laureate Odysseus Elytis was more descriptive: and the sword of Alexander the Great. Fasianos's sword did not stand, as in so many others, his technique, but the myth of his childhood. And his wisdom-shield, the persistence to maintain it and to develop it in a unwavering way, like an implanted wild rose ".
Know him
How can artistic creation begin? Is it talent, inspiration, training, technique?
This is the mystery of art. It has no beginning or end. At first you do not know what you are doing. An instinct leads you and you say so I can paint, I can not paint otherwise. The painter Henri Matisse had said: "My God, why can not I paint like the whole world?". He painted as he could. I think that is the truth of art, to create as you can and not as some have taught you in a school.
Have you been asked why you paint in this particular way?
When I was once asked, I replied that I was self-taught and he did not teach me in any school. The idea has no shape before, it is "ugly". Then it takes shape and when you make something, you then understand what it is, as people understand it. The work then gives you a character. It's all about being true and knowing yourself. It was an order to Delphi spread by Socrates.
Costumes, violin and Paris
Looking at your first works, I realized that as a product of time, your subject matter changed until the recent works.
I painted people in costumes. I had uniforms at home because my father was a music officer…
This may explain why you studied violin.
Yes, my father took me to the Athens Conservatory and I learned the violin. In my first works I painted musicians with costumes and instruments. I liked them. Then I went to Paris but I was not affected. Then everyone made abstract art and told me that what I did was documentary and did not keep pace with the times. After a few years they changed and made documents and again they told me that my own works were not enough documents μου My answer was that I will not do what the galleries want, I will do my own.
Did transferring your own view of art to France make it difficult for you?
What could I do; That's how I knew how to paint. I could not paint like the others. Then it becomes natural, but first you have to understand yourself and resist the currents that exist. Then you are not a current, but you are unique and you do what you want and not what others want.
Didn't the many years you lived in Paris influence the images to pass through your works?
I was influenced by painters. I can tell you that I have been influenced by 70 artists, ancient and modern, but that does not seem to be the case.
In many of your paintings there are elements of ancient Greek art. Vases, columns, etc. Are images as familiar as the costumes?
I liked the ancient vessels because they depicted people as shadows. One could say that they look like shadow theater. Shadow is a very big thing. You can give it tones and you can go into great detail. Many times I painted in the room where I was living in Paris and I woke up and saw these shadows that I had made and I thought they were people who had come in. I was afraid of my own works. I am a humanist in painting. You should not make man the way he is, but the way you see him. Like when you travel by boat and from afar you see an island and everything looks flat. You see a blue and as you approach then you can see the ocher in the mountains. When illuminated by the sun you think they are decorated with scissors.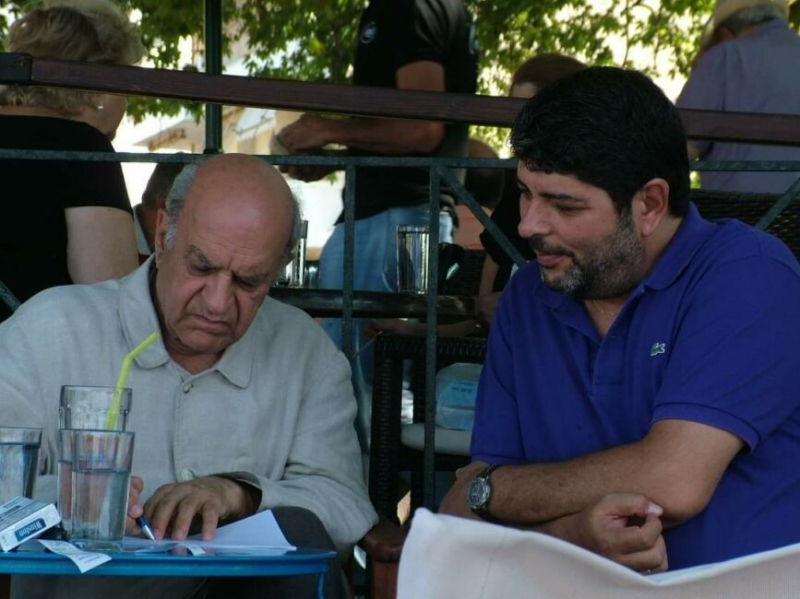 I paint my life
Was your perception of man or nature easy to understand by the people who watched your art?
Slowly it was realized. I was painting a man saying goodbye to a ship with a handkerchief. That excites me. All people have an experience with a ship coming or going, because events affect people. Also a couple in love who say to each other I love you. Everyone says so, but everyone says it differently and experiences it uniquely as their own case.
Are stereotypes like a bicycle, a tie, a handkerchief, people with wavy hair experiential elements?
What to paint? In the past, there were only bicycles, there were no cars in Greece. Then, with the Marshall Plan sent by America, various packages began to arrive. I remember a package that contained various clothes, such as baggy pants and some colorful Hawaiian shirts… They had sent everything they had for help. We wore these clothes and took the bicycles and went for a walk to Vouliagmeni. We also put a piece of paper on the bicycles to make noise… These affected me. This cyclist was like a fantastic and mythical creature, I would say. I did not learn to drive a car for this reason, because we did not have cars then. These are all experiences.
War and occupation were also experiences.
I had done some anti-war projects but then I stopped them. We can not have constant war. I had done some work with pistols, influenced by the occupation and the civil war. Then I made people with birds and things you see in nature. It does not matter what one thing you do. Morade kept making bottles. He lived in a house with his two sisters and arranged the bottles all his life. These he saw, these he painted.
Hermes on the balcony
What role did mythology play in choosing your themes?
Mythology helps you because it shapes the unreal is yours. Once a loud noise was heard on Mesogeion Avenue. Two cars had collided. I remember it was August and people were thrown on the balconies to see what happened. A man in a swimsuit came out on the balcony and I said "oh, Hermes". Imagination and mythology are created from a real element, such as the giants who raised Mount Pelion and the gods fought them and defeated them in the giant battle because they wanted to reach Olympus. Apparently there was an elevation of the mountain by an earthquake and they thought that some giants had lifted the mountain. This became a myth and passed into mythology.
But is it easy to create myths today?
Today everything is recorded in newspapers and computers and we can not make myths. Today there are explanations for everything, while in the past there was a personification of events and they were turned into myths to be remembered.
Absalom's hair
Talking to your colleague and friend George Stathopoulos, he told me that he does not expect inspiration to create. He goes to his studio every day like any other employee and paints.
Inspiration is a big thing. What was Homer saying? "A man touched me, muse, multifaceted…" He asks the muse to inspire him to describe the man who suffered so much and went through so much. And Hesiod in Works and Days begs the Heliconian muses to inspire him.
Your grandfather was a priest and I imagine he contributed to the formation of your artistic personality.
He officiated at Agios Apostolos in Plaka. The church did not have Byzantine icons but some western ones, which I did not like because they were ugly. But it also had some Byzantine icons, portable, which had gold and gave light. In the sanctuary there were basements below and I as a child thought that God was there. What inspired me the most was the way they performed and the ritual. My grandfather took me with him to the oil fields and I read the Apostles, whom I learned abroad.
How is this impact reflected in your projects?
For example, the long hair is from David's son Absalom, who rebelled against his father. David had given orders to capture him but not to kill him. As Absalom ran, his hair was tangled in a branch and he was killed. Then David wrote the psalms: "My son, my son…". I used to paint people with long hair and they asked me where it came from, since then in schools we all had short hair. It was Absalom and instead of a horse I put him on a bicycle.
Features in your paintings, in addition to hair, are the scarves, ties and scarves that flutter.
A prefect in Syros had asked me about a painting, how the hair fluttered on one side and the tie on the other? I told him it was a tornado. That was the explanation.
Art is not for the few
You are lucky enough to gain recognition for many years, despite the fact that most painters are recognized when they emigrate to the Lord.
They used to live a little. Van Gogh only painted for a few years, from 31 to 36, and died. He was destined to be a priest and then started painting, but did not manage to become famous. So did Paul Cezanne, who died of pneumonia.
In Paris I lived in a room below which was the restaurant where Modigliani ate. The restaurant was called Rosalie. Rosalia's daughter had told me that she had found a Modigliani work in the cellar but it was moldy and damaged. Modigliani went and ate and because he did not have to pay he left his works.
You are one of the artists with a large production of work and this is what some people accuse you of as a negative element.
Does not matter. I have inspiration and I keep doing projects. And Picasso didn't do a lot of work? Renaissance painters made entire walls.
Is art aimed at a few?
No. It is addressed to many. Everyone likes beautiful works. Crowds visit the Vatican to see Michelangelo's works in the Capella Sistina. The more, the better. Is it worthwhile for an artist to address two people? Not worth.