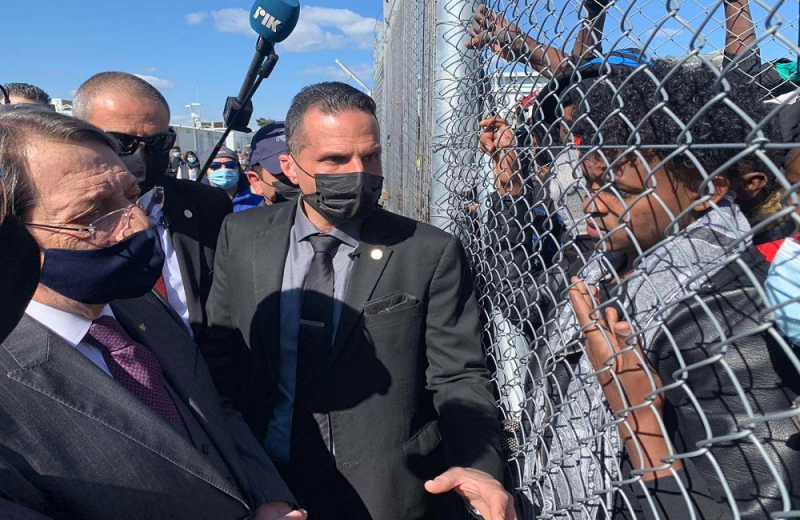 Photos: Christos Theodoridis
President Anastasiadis was at the Reception and Hospitality Center for Informal Immigrants "Pournara". Although she acknowledged that there was room for further improvement in the living conditions of the people, she rejected what the Commissioner for the Rights of the Child Despo Michailidou had said in a letter the previous day, about an unsuitable environment for minors, who do not receive meals regularly and only a bottle of water a day. However, the President saw a different environment – in part – since the area seems to have been cleared of mud, however the images of people behind fencing (tetlia) say it all.
In his statements to the media, the President stated that he noted the tragedy faced by people who "were exploited", as he characteristically said, noting, however, the tragedy that Cyprus is facing, with 5% of the total population being immigrants as he said today. He added that efforts are being made, but there are problems.
"I have become an eyewitness to what is happening in Pournara, and in the next few hours solutions will be given to the problems faced by immigrants", Nikos Anastasiadis promised, at the time around which more than two thousand people shouted for the obvious.
Asked about the criticism received by the Government and the Minister of Interior Nikos Nouris for the way people are treated, he said that "I refuse to comment on such reports, at a time when the state is facing a crisis", while noting that we must see how we deal with migration flows and improve infrastructure. In fact, especially for the Minister of Government, he told him that "The Minister of Interior is doing an excellent job" & # 8230;
The President was accompanied, among others, by the Minister of Interior, Nikos Nouris, the Deputy Minister of Social Welfare, Anastasia Anthousi and the Commissioner for the Protection of the Rights of the Child, Despo Michailidou-Livaniou.