Public complaint by the cheesemaker I. Kese about the PDO and the response of the Ministry of Agriculture to this year's Gastronomos awards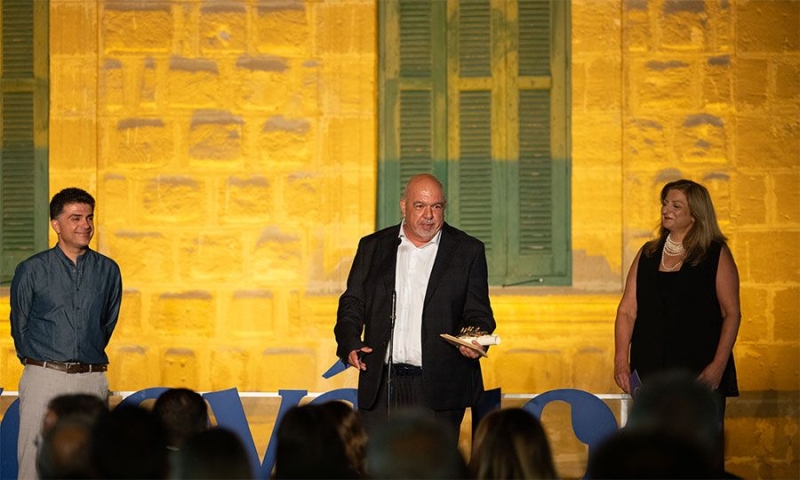 watch video The Cheesemaker, Mr. Iakovos Keses
Tones were raised in the framework of the Gastronomos quality awards, on the topic of halloumi, with the award-winning cheesemaker Iakovos Kese standing strongly when receiving his award. Addressing the director general of the Ministry of Agriculture, he said that the Ministry withdrew 17 tons of goat and sheep halloumi, with the excuse that it did not meet PDO specifications. "Today they withdrew the Ministry. Georgia 17 tons of goat and sheep halloumi, 23 were left in the refrigerators because they were not PDO. If goat and sheep halloumi is not PDO then what is? You ruined us. If I had licenses I would file a lawsuit against you." We are in a country where we must produce with quality in order to survive, Mr. Keses stressed, while he spoke of temporary and small profitability in PDO production.
Disagreements about the PDO specifications were also expressed by the cheesemaker Maria Capona, who received the award for traditional product of Anari (A.M. Druseia Dairy). He specifically stated "For me PDO halloumi as it has been certified is a pure mockery. It is not possible in a supermarket to have halloumi with 10% goat and sheep and 100% goat and sheep. One day the PDO will collapse, with the specifications of the file, Cyprus will not be able to cover the goat and sheep milk quota and we will have a big problem. If the state does not come to put a brake on the increases in animal feed prices, animal husbandry is at risk," said Ms. Kapona.
< h3 class="bd_Title">For the good of the economy
< /p>
Taking the floor, the Director General of the Ministry of Agriculture, Andreas Grigoriou, emphasized that the agreement reached is in the interest of all parties and defended the decision which, as he stated, is for the good of the country and the economy. The agreement on July 22, 2022, he pointed out, was made between Cheesemakers, Goat Sheep Farmers and Cattle Farmers, with the testimony of the Minister. of Georgia and the KEBE. In this context, it was decided to make various changes to the standard in order to ensure the large production of hallumin that existed with the export orientation. "Today, the value of the halloumi we produce is 1 million euros per day. Halloumi produced in Cyprus is 1 million euros per day. And we had to defend jobs, but also everyone's interests." He stated that the agreement made between the three parties was beneficial for everyone and especially for the place and the economy.