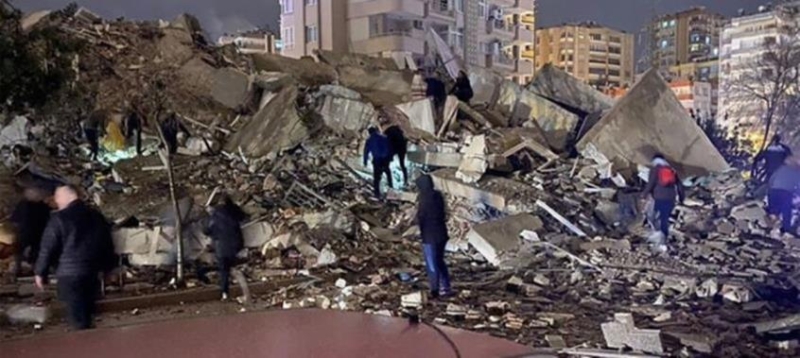 They will accept humanitarian aid from E/K decided the so-called "ministerial council" of the occupied after a session last night under the chairmanship of Ersin Tatar.
As announced, the decision concerns aid from either individuals or organizations destined for Turkey, which will be accepted "in the framework of the campaign of the Prime Minister's Disaster and Emergencies Committee with the mediation of the United Nations and will be delivered to the sports Atatürk Stadium in Nicosia and will be sent to the Republic of Turkey via tdvk".
The so-called "ministerial council" also decided to authorize the "foreign ministry" to contact the Turkish Ministry of Foreign Affairs to successfully sample the rubble of the Isias Hotel to aid the legal process regarding the building's collapse. which claimed the lives of tens of T/k.
The "government" will follow all technical and legal studies that will be initiated in consultation with the government of the Republic of Turkey in order to protect the rights and laws of " citizens" who lost their lives or were affected by the earthquake, the "prime minister" Unal Ustel told "Bayrak" last night.
He also announced that, regarding the legal aspect, "yepex" had contacted the Prosecutor's Office of Turkey.
Another 13 bodies arrived in the occupied territories from Antiyaman
Another 13 bodies arrived at midnight in the occupied territories on a direct flight from Antiyaman, Turkey. Coffins from the plane carried soldiers, rescuers and federation athletes, as well as volleyball players. A crowd of relatives and friends was waiting at the illegal airport of Tympos.
These are students, teachers and parents. The names that were made public are: Abide Dagli and Nazife Dagli, students and their mother Mulkiye Dagli.
Arash Aktougralli, Hayal Genjiaglioglu, Atakan Celal Konuklu, son of gymnast Pamir Konuklu, Hasan Bilgen, Mehmet Arif Altak, Serin Ipeccioglu, Celine Karacaya, Osman Celidas, Aykan Ekiz and gym teacher Nehir Cevik.
The Turkish leader, Ersin Tatar, the "president" of the "parliament" was again at the airport, Zorlu Torre, the "prime minister", Unal Ustel, the Turkish "ambassador", Metin Feizioglu, the president of the RTK, Tufan Erhiurman and other "MPs", "ministers", officers of the occupying army.
In another body was found in the ruins of the Isias Hotel in Antiyaman. So far, 25 members of the volleyball team have been identified and another 10 are missing.
The total number of victims of the earthquake in Turkey involving "citizens" of the pseudo-state has reached 38.
In Hatay, nine people were found under the debris of the buildings where they lived, three in Kahramanmaras and one in Osmaniye.
Today at noon the funeral of the assistant director and escort of the student volleyball team from&nbsp will take place in occupied Famagusta ; Famagusta, Ibrahim Yakula.
BINTEO: A mother and her three children were freed after 108 hours from the ruins
They were removing pillars from the buildings the builders and Erdoğan gave them the fines