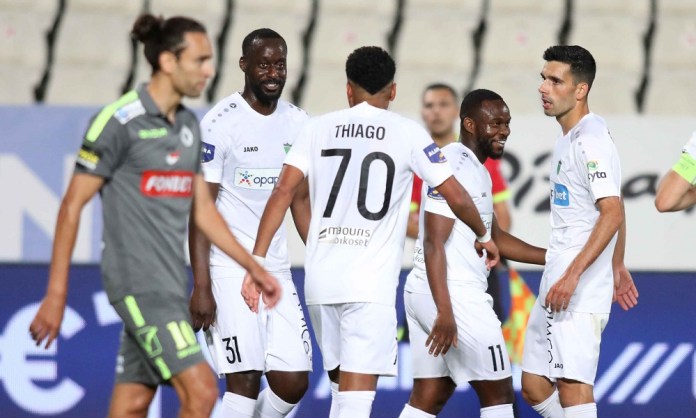 The dance of goals began in the 23rd minute with a direct execution of Thiago for the black and greens who in the 39th minute – at the suggestion of the VAR – were left with ten players due to the dismissal of Makris with a direct red card because he raised his foot high and found Amerogen.
Despite the numerical disadvantage, the black and greens scored two more goals. In the 52nd minute, Vangelis Kyriakou scored on the penalty that Ka won in a reversal by Komodikis, while in the 62nd minute, Ka made it 3-0.
The team of Kyrenia in 65 'reduced 3-1 with Varelas, while in 70' he was left with ten players due to the dismissal of Francesco on Thiago.
In the 72nd minute, Ka scored his second personal goal to make it 4-1, with the visitors reducing by two more goals, in the 79th minute, with Kouros – Mol made a tragic mistake – succeeding in a direct foul, and in 90 'Babic scored the final 4-3 with a header.
With this victory, which is the fourth in a row and the second with four goals (p. p. preceded the 4-0 against AEL) Olympiakos reached 38 points. PAEEK remains at 16.
Olympiakos: Mol, Boveda, Makris, Manrique (38΄Sampinia) Eftychidis (46΄Sali) Savva (46΄Pehlivanis) Diane, Nani, Kyriakou, Thiago (77΄Christodoulou) Charalambous (46΄Ka)
PAEEK: Mavromoustakos, Or (61΄Varela) Enoch (61΄Babits) Charalambous, Aristotelous, Pattichis (46΄Kaimolen) Komodikis, Kapartis, Amerongen (46΄Neophytou) Kouros, Frangeskou.
* After the end of the match, in statements, the head of the football department of Olympiacos, Christoforos Tornaritis, complained about the management of the refereeing team in an indifferent game.
Like this:
Like Loading …