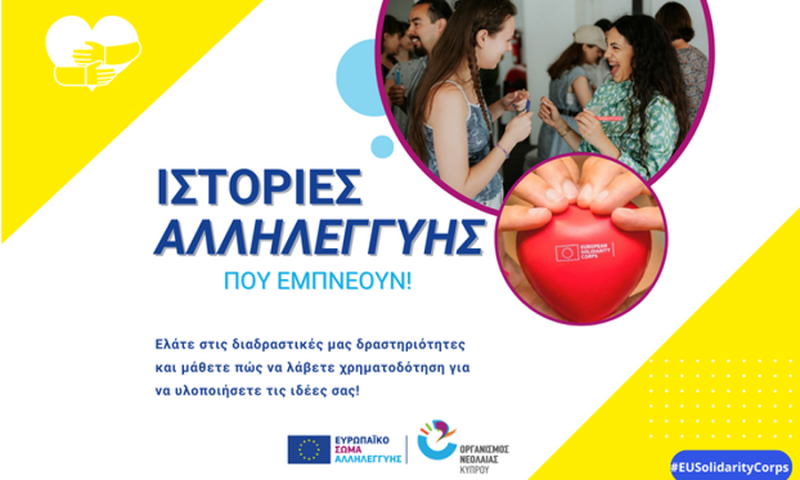 More and more young people, especially after the pandemic period, have the need to express their solidarity, helping their fellow human beings and taking initiatives to address social and humanitarian challenges.
How would you like to be able to implement your ideas, which aim to bring about positive change in your community and municipality or offer your services voluntarily in Cyprus or abroad, with funding and support from the EU through the European Solidarity Corps?
If you are thinking about it, then all you have to do is come to the volunteering and solidarity events entitled "Solidarity Stories that Inspire"< /em>,that will take place all over Cyprus and take the next step!
So if you are a young person aged 18-30 or if you work with/for the youth (voluntarily or not) individually or through organized groups , NGOs, Youth Centers, Youth Councils, Municipalities, Communities, etc., come to listen and be inspired by the experiences of young volunteers and organizations, which implement volunteer projects and solidarity projectsin Cyprus, to network and learn all the necessary information about the application process for the "European Solidarity Corps" funding program.
Register now HERE and we are waiting for you at one of our interactive events below, to explore together the possibilities offered by the program in question:
July 7 (Friday) – Olympia, 17:00 – 20:00
July 8 (Saturday) – Kathikas, 10:00 – 13:00
July 10 (Monday) – Limassol, 10:00 – 13:00
July 12 (Wednesday) – Skarinou, 17:00 – 20:00
July 13 (Thursday) – Paralimni, 17:00 – 20:00
For information you can contact +35799950282 (Doksia) and to e-mail: esc@onek.org.cy .
< iframe width='300px' height='500px' src='https://www.adstorebluebird.cy/api/banner/ServeBanner?zoneId=2734' frameborder='0' scrolling='no'>