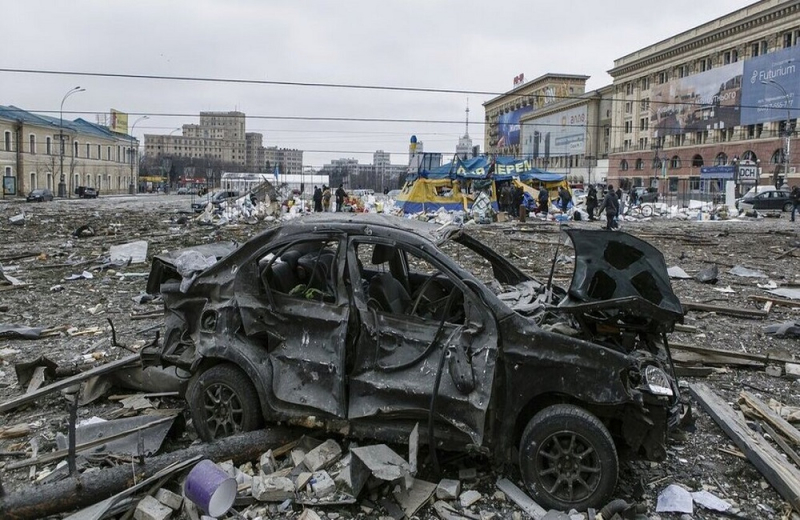 The attacks of the Russian forces on all the fronts of Ukraine continue for the sixth day, at the cost of a heavy blood tax. On Tuesday afternoon, bombings began again in parts of Kiev with reports of five dead and five wounded, while there are reports of heavy bombardment in Mariupol. Attacks have also been reported in Kharkov since early in the year, with reports of civilian deaths and injuries. Pictures and videos circulated on social media show dense black smoke covering the sky in a residential area near the tower.
Information transmitted by the Interfax agency, reports five dead and five injured from the attack.
— Anastasia Magazova (@anastasia_maga) March 1, 2022
The Ukrainian Ministry of Defense has confirmed that it was hit by a Russian the Kiev Television Broadcasting Tower. In a Twitter post, the Ukrainian ministry said some TV networks would not broadcast for some time, but the programs would return later.
УВАГА‼️
Попадання в апаратну мовника на телевежі.
Якийсь час, канали не будуть працювати.
Найближчим часом буде включено резервне мовлення частини каналів.
Ворог може поширювати фейки з метою дестабілізації ситуації. Знайте, Україна бореться і вистоїть!#stoprussia pic.twitter.com/WE5iQAJG0z

— Defence of Ukraine (@DefenceU) March 1, 2022
Earlier, the Russian Ministry of Defense had warned residents in Kyiv to leave their homes as Moscow planned to hit targets in the Ukrainian capital. Russia's state-run Tass news agency reported that the attack would target intelligence infrastructure, telecommunications towers and government buildings, in a bid to end cyber-attacks against Russia.
According to Russia Today, high-precision weapons were to be used, targeting the headquarters of the Kiev security service and the "Information and Psychological Operations Center" in the Ukrainian capital.
All this at a time when A huge Russian military convoy has been heading north from the capital since yesterday.
The 64-kilometer convoy, as captured by Maxar Technologies satellite imagery, includes hundreds of armored vehicles, tanks, self-propelled guns and logistics vehicles.
Meanwhile, Ukrainian Defense Minister "Psychological attack" by Russia. In a Facebook post, he claimed that Russia was planning to cut off communications first. , wrote.
"To substantiate the fake news, they will publish photos of signed documents and a fake video. "This is a lie," he continued. "There will be no capitulation! "Only victory!", He concluded.
The Ukrainian government again addressed NATO asking for the imposition of a no-fly zone.
Concerning messages for Mariupol /p>
At the same time, reports from Mariupol are worrying, as there are reports of heavy bombardment there. civilians and infrastructure have been affected,
"Residential areas have been bombed for five days. "They are hitting us with artillery, they are bombing us with GRAD missiles, they are hitting us with their air force," Vadim Boishenko said on Ukrainian television.
"Political infrastructure – schools, houses – have been damaged. There are many injured. "Women and children have been killed," he added. "Mariupol and Volnovacha are ours! The two cities are under pressure from the enemy, but they resist. In Mariupol (& # 8230;) the city is without electricity ", he added.
Heavy pounding in Kharkov
Images from Kharkiv, which has been hit by relentless pounding since the morning, have also left civilians dead, while others are trapped in the rubble of collapsed buildings.
At least 10 people were killed and Another 35 people were injured today in rocket fire by Russian forces against the center of Kharkov, said Anton Herastsenko, an adviser to the Ukrainian Interior Ministry, in a post on social media.
"As a result of the artillery bombardment, a government building and an adjacent building were damaged. People are trapped under the rubble. "The head of the rescue operation has learned that more than 20 people have been injured," a member of the service said in the video, adding that emergency rescue teams are working to rescue the dead and injured.
Russians bomb government building in Kharkov:
Ukrainian President Volodymyr Zelensky addresses the European Parliament via videolink