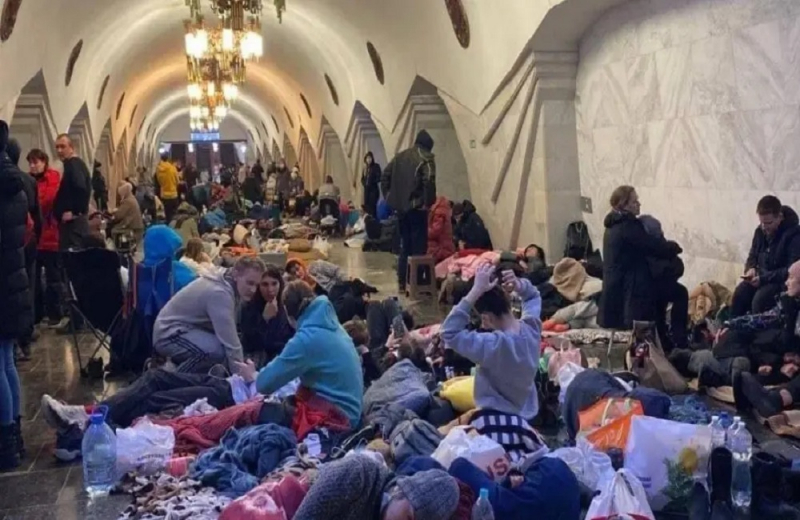 Since Thursday morning, when Russia began its invasion of Ukraine, thousands of citizens of all ages, having managed to put in their suitcases what they could, headed to the metro stations wanting to find a safe shelter from the bombings.
Images and videos depicting dozens of citizens on the docks and corridors of subway stations are making the rounds of the world through social media . They are all preparing to go through one of the most difficult nights of their lives while the "war drums" create a generalized atmosphere of terror.
Harkov metro durağı pic.twitter.com/y8AJ74SJbF

— SUNGUR TEKİNALP (O.Tuna) (@Berkbekir_) February 24, 2022
Harkov'daki bir metro istasyonu, çoğunluğu kadın ve çocuklardan oluşan sivillerle doldu… pic.twitter.com/WWbhGqLXfV

— ÇapaMag (@CapaMag) February 24, 2022
#SONDAKİKA|#Ukrayna'nın Harkov şehrinde vatandaşlar rus bombardımanı korkusuyla, şehrin metro sistemine sığındı ve geceyi burada geçirecek. pic.twitter.com/znLv9fTugq

— Ortadoğu Haber – Son Dakika (@OrtadoguCanli) February 24, 2022
Harkov metrosu bugün sığınak olarak hizmet veriyorhttps://t.co/vAVouTHKSR pic.twitter.com/Zp2DfNjJLG

— soL Haber (@solhaberportali) February 24, 2022
Almost 100,000 Ukrainians left their homes
According to the UN High Commissioner for Refugees, several thousand Ukrainians have chosen to seek safe haven in neighboring countries, mainly Moldova and Romania. >. At the same time, almost 100,000 Ukrainians fled their homes and were uprooted.
Sambia Mantoux United Nations High Commissioner for Refugees (UNHCR) said the data was gathered from reports by national authorities, UNHCR staff and partner services. "It's an approximate number," he told Reuters.