POWERED BY:
17:56 Tuesday
March 29, 2022 INSIDER • GOAL • IN-CYPRUS • PROPERTY • CYPRUS-IS • CAREER LIKE • GOING OUT • XRYSES SYNTAGES • ACTIVE • PHILGROUP NEWS & nbsp; SOCIETY & nbsp; INSIDER & nbsp; OPINIONS & nbsp; GOING OUT & nbsp; CULTURE & nbsp; SPORTS & nbsp; AUTO & nbsp; GOOD LIFE & nbsp; USEFUL & nbsp; PRINTED EDITION & nbsp;
ARCHIKIEIDISEISPOLITIKITOPIKAPARASKINIOMEDIAELLADAKOSMOSEPISTIMIPERIVALLONTECHNOLOGIASYNENTEFXEISCHRYSES ETAIREIESKOINONIAEIDISEISKYPROS OF CHTHESANAGNOSTI HAVE LOGOEPISTOLESSYNENTEFXEISDIMOFILI IN INTERNETVIDEOSAFIEROMATAADVERTORIALINSIDEREPICHEIRISEISKYPROSBRAND VOICECAPITALFORBESBLOOMBERG OPINIONPROTAGONISTESKAFTI GRAMMICHRYSES ETAIREIESKARIERAAPOPSEISARTHRA IN "F" INTERVENTION IN "F" MESSAGE YOUR SKITSAO WORLD TWITTERGOING OUTTHINGS TO DOCINEMAMOUSIKIESTIATORIABAR/CAFETV ODIGOSTILEORASIPOLITISMOSKYPROSKOSMOSKRITIKESEKDILOSEISPROSOPAATHLITIKAPODOSFAIROMPASKETPARASKINIAELLADADIETHNIALLA SPORAPOPSEISSKITSOVIDEOSAUTONEAPAROUSIASIAPOSTOLESAGONESKALI ZOIFGEIADIATROFIEF ZINASTRACHRYSES SYNTAGESSYNTAGES SEFVIMA VIMACHRISIMAFARMAKEIAGIATROIAERODROMIALIMANIATILEFONAOPAPKAIROSSYNALLAGMALACHEIAAPPSPROSFORESENTYPI EDITION POLITIKITOPIKAPARASKINIOMEDIAELLADAKOSMOSEPISTIMIPERIVALLONTECHNOLOGIASYNENTEFXEISCHRYSES COMPANIES EIDISEISKYPROS OF CHTHESANAGNOSTI HAVE LOGOEPISTOLESSYNENTEFXEISDIMOFILI THE INTERN ETVIDEOSAFIEROMATAADVERTORIAL EPICHEIRISEISKYPROSBRAND VOICECAPITALFORBESBLOOMBERG OPINIONPROTAGONISTESKAFTI GRAMMICHRYSES ETAIREIESKARIERA ARTICLES IN "F" INTERVENTION IN "F" MESSAGE YOUR SKITSAO WORLD OF TWITTER THINGS TO DOCINEMAMOUSIKIESTIATORIABAR/CAFETV ODIGOSTILEORASI KYPROSKOSMOSKRITIKESEKDILOSEISPROSOPA PODOSFAIROMPASKETPARASKINIAELLADADIETHNIALLA SPORAPOPSEISSKITSOVIDEOS NEAPAROUSIASIAPOSTOLESAGONES YGEIADIATROFIEF ZINASTRACHRYSES SYNTAGESSYNTAGES SEFVIMA STEP FARMAKEIAGIATROIAERODROMIALIMANIATILEFONAOPAPKAIROSSYNALLAGMALACHEIAAPPSPROSFORES ENTERPRISES LTD BRAND VOICE CAPITAL FORBES BLOOMBERG OPINION PROTAGONISTS HOT LINE GOLDEN CAREER COMPANIES
EXCLUSIVE COOPERATION
TOGETHER WITH
Powered by
Next Invest Cyprus hosts Roadshow 2022 – Israel in Tel Aviv HOME • INSIDER • CYPRUS • Invest Cyprus organized the Roadshow 2022 – Israel in Tel …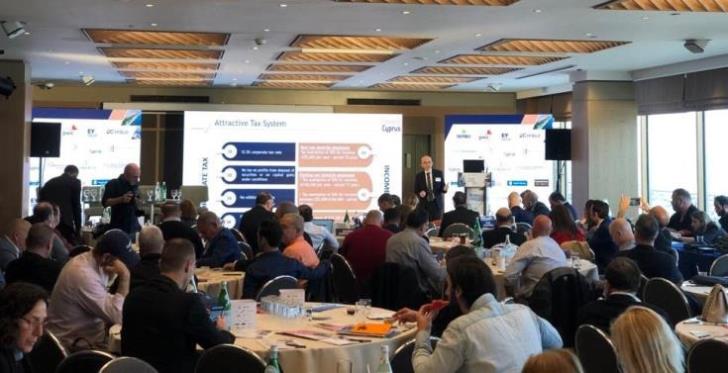 As part of its regular and targeted actions abroad for the promotion of Cyprus as an investment destination, Invest Cyprus hosted the Roadshow 2022 – Israel in Tel Aviv on Tuesday, March 29, 2022.
According to an announcement by Invest Cyprus, through an all-day Conference with presentations and discussions, more than 200 participants from the neighboring country were given the opportunity to get to know Cyprus better and place it on the map of their choices as an attractive international business center and ideal destination for foreign investment.
In recent years, it is reported, the investment and business relations between Cyprus and Israel have recorded a significant increase with many companies of Israeli interests choosing our country either to make significant investments or to create a European business base. & Nbsp;
During the Conference, the President of Invest Cyprus, Giannis Matsis, gave an overview of the Cypriot economy and developed issues such as the attractive tax system, the high level of professional services, the low cost of living compared to other competing European countries, as well as the recent regulatory changes and incentives of the Government in the context of the new integrated strategy of attracting foreign companies and their staff. Always in line with the long-term strategy for the sustainable development of the Cypriot economy ("Vision 2035").
The Deputy Director of Invest Cyprus, Marios Tanousis, presented the strategy of the Ministry of Finance to attract international companies with an emphasis on technology companies, while the Investment Promotion Officer of the organization, Sarris Dimitriou, presented the opportunities for investments in strategically important areas such as , major land development projects, Health and Education.
The Conference was also attended by the Vice President of the Hellenic Capital Market Commission, George Karatzias and the President and Chief Scientist of the Research and Innovation Foundation, Dr. Nikolas Mastrogiannopoulos. The Vice President of the Foundation for Research and Innovation, Stavriana Kofteros.
At the same time, representatives of the business world had the opportunity to develop the data of each sector separately and specific investment proposals, giving the mark of growth and investment opportunities in our island.
According to t During its stay in Israel, the Invest Cyprus mission will hold a series of additional targeted meetings with Israeli interest companies and large investment organizations, which have shown particular interest in Cyprus.