POWERED BY:
14:26 Sunday
12 June 2022 INSIDER • GOAL • IN-CYPRUS • PROPERTY • CYPRUS-IS • CAREER LIKE • GOING OUT • XRYSES SYNTAGES • ACTIVE • PHILGROUP NEWS & nbsp; SOCIETY & nbsp; INSIDER & nbsp; OPINIONS & nbsp; GOING OUT & nbsp; CULTURE & nbsp; SPORTS & nbsp; AUTO & nbsp; GOOD LIFE & nbsp; USEFUL & nbsp; PRINTED EDITION & nbsp;
ΑΡΧΙΚΗΕΙΔΗΣΕΙΣΠΟΛΙΤΙΚΗΤΟΠΙΚΑΠΑΡΑΣΚΗΝΙΟMEDIAΕΛΛΑΔΑΚΟΣΜΟΣΕΠΙΣΤΗΜΗΠΡΟΕΔΡΙΚΕΣ 2023ΤΕΧΝΟΛΟΓΙΑΣΥΝΕΝΤΕΥΞΕΙΣΧΡΥΣΕΣ ΕΤΑΙΡΕΙΕΣΚΟΙΝΩΝΙΑΕΙΔΗΣΕΙΣΚΥΠΡΟΣ ΤΟΥ ΧΘΕΣΑΝΑΓΝΩΣΤΗ ΕΧΕΙΣ ΛΟΓΟΕΠΙΣΤΟΛΕΣΣΥΝΕΝΤΕΥΞΕΙΣΔΗΜΟΦΙΛΗ ΣΤΟ INTERNETVIDEOSΑΦΙΕΡΩΜΑΤΑADVERTORIALINSIDERΕΠΙΧΕΙΡΗΣΕΙΣΚΥΠΡΟΣBRAND VOICECAPITALFORBESBLOOMBERG OPINIONΠΡΩΤΑΓΩΝΙΣΤΕΣΚΑΥΤΗ ΓΡΑΜΜΗΧΡΥΣΕΣ ΕΤΑΙΡΕΙΕΣΚΑΡΙΕΡΑΑΠΟΨΕΙΣΑΡΘΡΑ ΣΤΟΝ "Φ"ΠΑΡΕΜΒΑΣΕΙΣ ΣΤΟΝ "Φ"ΤΟ ΜΗΝΥΜΑ ΣΟΥ ΣΚΙΤΣΑΟ ΚΟΣΜΟΣ ΤΟΥ TWITTERGOING OUTTHINGS TO DOCINEMAΜΟΥΣΙΚΗΕΣΤΙΑΤΟΡΙΑBAR/CAFETV ΟΔΗΓΟΣΤΗΛΕΟΡΑΣΗΠΟΛΙΤΙΣΜΟΣΚΥΠΡΟΣΚΟΣΜΟΣΚΡΙΤΙΚΕΣΕΚΔΗΛΩΣΕΙΣΠΡΟΣΩΠΑΑΘΛΗΤΙΚΑΠΟΔΟΣΦΑΙΡΟΜΠΑΣΚΕΤΠΑΡΑΣΚΗΝΙΑΕΛΛΑΔΑΔΙΕΘΝΗΑΛΛΑ ΣΠΟΡΑΠΟΨΕΙΣΣΚΙΤΣΟVIDEOSAUTOΝΕΑΠΑΡΟΥΣΙΑΣΗΑΠΟΣΤΟΛΕΣΑΓΩΝΕΣΚΑΛΗ ΖΩΗΥΓΕΙΑΔΙΑΤΡΟΦΗΕΥ ΖΗΝΑΣΤΡΑΧΡΥΣΕΣ ΣΥΝΤΑΓΕΣΣΥΝΤΑΓΕΣ ΣΕΦΒΗΜΑ ΒΗΜΑΧΡΗΣΙΜΑΦΑΡΜΑΚΕΙΑΓΙΑΤΡΟΙΑΕΡΟΔΡΟΜΙΑΛΙΜΑΝΙΑΤΗΛΕΦΩΝΑΟΠΑΠΚΑΙΡΟΣΣΥΝΑΛΛΑΓΜΑΛΑΧΕΙΑAPPSΠΡΟΣΦΟΡΕΣΕΝΤΥΠΗ ΕΚΔΟΣΗ ΠΟΛΙΤΙΚΗΤΟΠΙΚΑΠΑΡΑΣΚΗΝΙΟMEDIAΕΛΛΑΔΑΚΟΣΜΟΣΕΠΙΣΤΗΜΗΠΡΟΕΔΡΙΚΕΣ 2023ΤΕΧΝΟΛΟΓΙΑΣΥΝΕΝΤΕΥΞΕΙΣΧΡΥΣΕΣ ΕΤΑΙΡΕΙΕΣ ΕΙΔΗΣΕΙΣΚΥΠΡΟΣ ΤΟΥ ΧΘΕΣΑΝΑΓΝΩΣΤΗ ΕΧΕΙΣ ΛΟΓΟΕΠΙΣΤΟΛΕΣΣΥΝΕΝΤΕΥΞΕΙΣΔΗΜΟΦΙΛΗ ΣΤΟ INTERNETVIDEOSΑΦΙΕΡΩΜΑΤΑADVERTORIAL ΕΠΙΧΕΙΡΗΣΕΙΣΚΥΠΡΟΣBRAND VOICECAPITALFORBESBLOOMBERG OPINIONΠΡΩΤΑΓΩΝΙΣΤΕΣΚΑΥΤΗ ΓΡΑΜΜΗΧΡΥΣΕΣ ΕΤΑΙΡΕΙΕΣΚΑΡΙΕΡΑ ΑΡΘΡΑ ΣΤΟΝ "Φ"ΠΑΡΕΜΒΑΣΕΙΣ ΣΤΟΝ "Φ"ΤΟ ΜΗΝΥΜΑ ΣΟΥ ΣΚΙΤΣΑΟ ΚΟΣΜΟΣ ΤΟΥ TWITTER THINGS TO DOCINEMAΜΟΥΣΙΚΗΕΣΤΙΑΤΟΡΙΑBAR/CAFETV ΟΔΗΓΟΣΤΗΛΕΟΡΑΣΗ ΚΥΠΡΟΣΚΟΣΜΟΣΚΡΙΤΙΚΕΣΕΚΔΗΛΩΣΕΙΣΠΡΟΣΩΠΑ ΠΟΔΟΣΦΑΙΡΟΜΠΑΣΚΕΤΠΑΡΑΣΚΗΝΙΑΕΛΛΑΔΑΔΙΕΘΝΗΑΛΛΑ ΣΠΟΡΑΠΟΨΕΙΣΣΚΙΤΣΟVIDEOS ΝΕΑΠΑΡΟΥΣΙΑΣΗΑΠΟΣΤΟΛΕΣΑΓΩΝΕΣ ΥΓΕΙΑΔΙΑΤΡΟΦΗΕΥ ΖΗΝΑΣΤΡΑΧΡΥΣΕΣ ΣΥΝΤΑΓΕΣΣΥΝΤΑΓΕΣ ΣΕΦΒΗΜΑ ΒΗΜΑ ΦΑΡΜΑΚΕΙΑΓΙΑΤΡΟΙΑΕΡΟΔΡΟΜΙΑΛΙΜΑΝΙΑΤΗΛΕΦΩΝΑΟΠΑΠΚΑΙΡΟΣΣΥΝΑΛΛΑΓΜΑΛΑΧΕΙΑAPPSΠΡΟΣΦΟΡΕΣ ΕΠΙΧΕΙΡΗΣΕΙΣ ΚΥΠΡΟΣ BRAND VOICE CAPITAL FORBES BLOOMBERG OPINION ΠΡΩΤΑΓΩΝΙΣΤΕΣ ΚΑΥΤΗ LINE GOLDEN COMPANIES CAREER
EXCLUSIVE COOPERATION
TOGETHER WITH
Powered by
Next Previous ISIS Clinic: One of the most successful in vitro fertilization and fertility maintenance units HOME • INSIDER • BRAND VOICE • ISIS Clinic: One of the most successful IVF units …
Free information from the embryology department about the procedure
In vitro fertilization was first successfully applied to humans in 1978 in the United Kingdom. Specifically, on July 25, 1978, the first child was born at Oldham Hospital in England, under the supervision of Dr. Steptow, through medically assisted reproduction.
This event has given hope to many couples and since then the lives of many people have changed for the better as to date it is estimated that more than eight million children have been born worldwide.

What is IVF?
In vitro fertilization is the process by which the egg is fertilized by the sperm outside the woman's body, in a specially equipped embryo laboratory in conditions that mimic the inside of the female reproductive system. The resulting embryos are then transferred back to the uterus for pregnancy.
The techniques used to fertilize eggs are:
1. Conventional IVF
2. Microfertilization (ICSI)
Conventional IVF is used in cases of blocked or damaged fallopian tubes and possibly in cases of endometriosis. With this method the gametes are placed together in the laboratory. A prerequisite is that the parameters that characterize the sperm (number, motility and morphology) are normal. Microfertilization is applied in cases of severe male infertility (low sperm parameters). In this method, a sperm is inserted directly into the egg.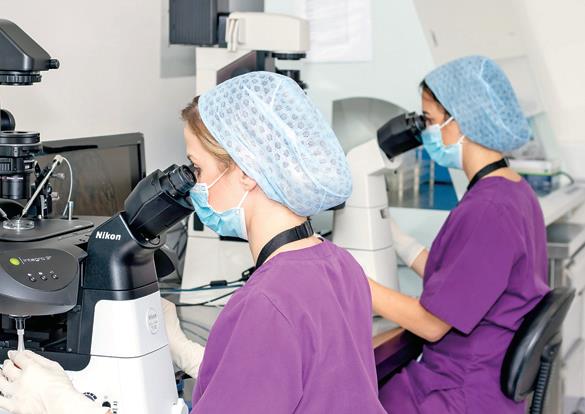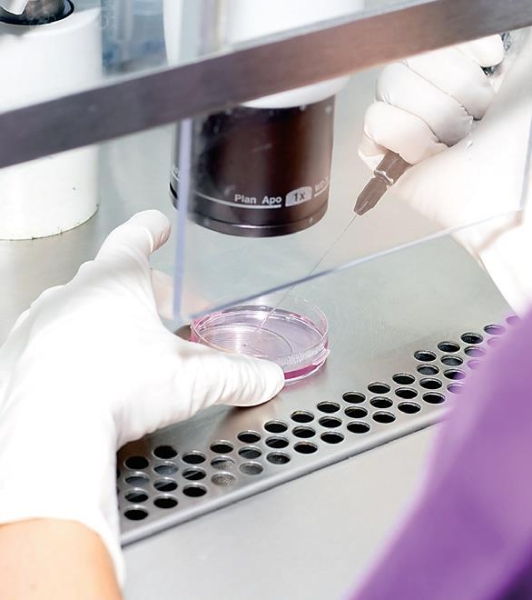 MAINTENANCE FERTILITY
Egg cryopreservation
This is an innovative service offered that allows every woman to "freeze" time. The number and quality of a woman's eggs decreases significantly, especially after the age of 35 and with them the possibility of pregnancy.
During the cryopreservation process, the eggs that are obtained are cryopreserved in the laboratory by the method of vitrification and then with special means and procedures are stored, without affecting their quality, until the woman decides to use them. This method is now a safe routine method with very high success rates.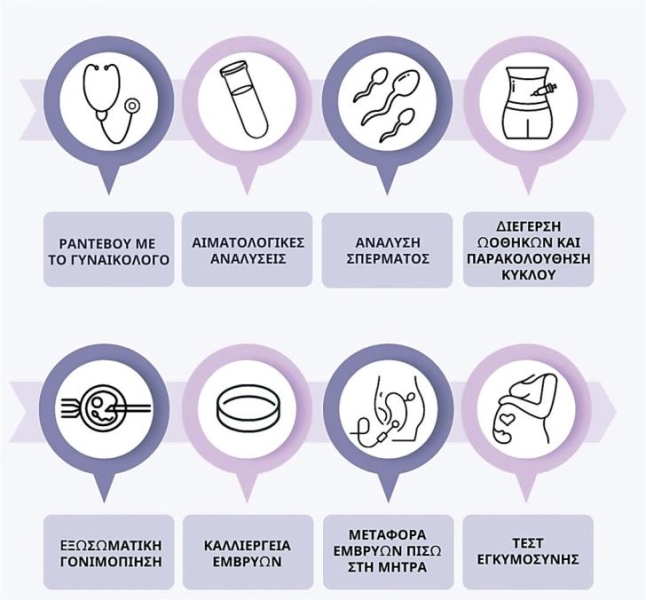 Egg cryopreservation is indicated:
– In women who want to maintain their fertility until they find the right partner
– In women undergoing chemotherapy which may cause irreversible damage to the ovaries
– For other medical reasons eg removal of the ovaries
– Also indicated for couples wishing to have postpone childbearing for any personal reason
Sperm cryopreservation
Sperm freezing, or sperm cryopreservation, is the process of preserving sperm for future use. Suitable for men who:
– They have ejaculatory dysfunction
– They will undergo procedures that may impair the quality or production of sperm
– They will undergo testicular surgery or receive treatment for
cancer.
Cryopreservation of testicular tissue
In cases of azoospermia, it is decided to take a testicular biopsy surgically to confirm the presence or absence of sperm. The collected testicular tissue is processed in the laboratory to isolate sperm suitable for fertilization and/or future storage (if any). After special treatment of the sperm, they are cryopreserved in liquid nitrogen at -196 ° C, where they remain until future use.
Cryopreservation of embryos
Excess embryos that will result from an IVF cycle can be cryopreserved by the vitrification method and used in the future. Research has shown that the vitrification method for cryopreservation of embryos is safe and does not affect the quality of embryos. With vitrification, success rates are similar or in some cases better than those used in fresh embryos.The ISIS clinic is considered one of the most experienced and successful IVF units in Europe. The multifactorial effort of our embryology team, which has invested in order to simulate the optimal internal environment of the uterus in the embryology laboratory, is reflected in our high success rates which approach 80% for women under 35 years of age. The clinic also has high rates for women over 35.
The embryology laboratory of the ISIS clinic consists of the largest team of experienced doctors and embryologists in Cyprus who are constantly informed about the latest developments in the field of assisted reproduction and seek better solutions for individualized treatment of each couple. >
At the same time, at the ISIS clinic we provide the opportunity for each couple to make a free appointment with the embryology department in order to discuss their medical history but also to guide the couple on their next steps.
< Remaining true to our values, we managed to make the dream of having thousands of couples who trusted us come true, since to date more than 2000 children have been born after in vitro fertilization at the ISIS clinic. This joy belongs not only to the parents but also to all of us who contributed to the coming of a new life.
CONTACT DETAILS
Ioannis Clerides 6, 1070, Nicosia, Cyprus,
Tel: (+357) 22255000,
Fax: (+357) 22257000,
email: [email protected]
www.isisclinic.com