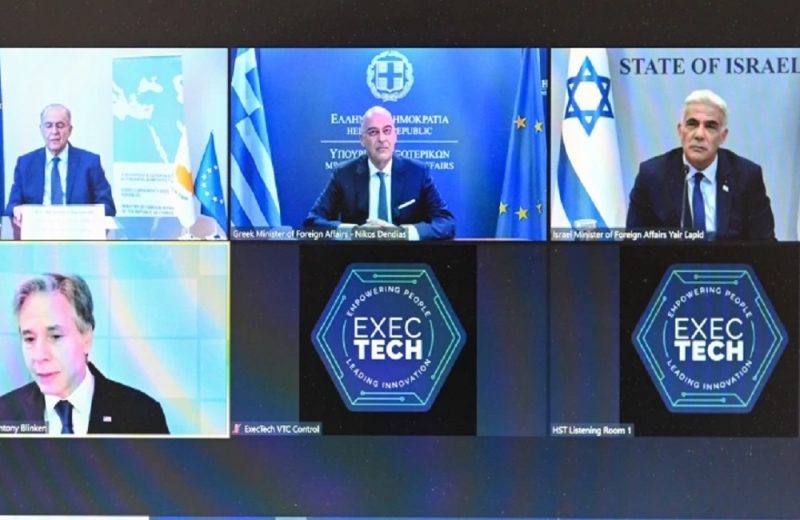 The 3 + 1 ministerial teleconference was held today, in which the US Secretary of State Anthony Blinken, the Republic of Cyprus Mr. Ioannis Kasoulidis, the Greek Mr. Nikos Dendias and the Israeli Mr. Yair Lapid took part.
During the teleconference, the four Foreign Ministers exchanged views on establishing a "regional multilateralism" approach to the Eastern Mediterranean as part of a positive agenda, through the establishment of co-operation programs in the fields of Energy, Climate Change, Blue and Green Natural Disasters.
They agreed to maintain the political dynamics of the 3 + 1 format as well as to establish a political dialogue between the countries on various issues and policy areas. They also agreed to hold a physical meeting of the group in the autumn, for the purpose of evaluating the progress made in the individual areas of cooperation.
At the end of the meeting, the 4 Ministers agreed to issue a joint statement reaffirming their joint commitment to promoting peace, stability and prosperity in the Eastern Mediterranean.
At a critical time for Europe, the United States and the world, the Ministers reiterated their commitment to the 3 + 1 scheme and decided to intensify their cooperation in the fields of energy, economy, climate change, natural disasters and counter-terrorism, thus helping to strengthen resilience, energy security and interconnection in the region. The four countries support and encourage additional initiatives such as the Negev Summit to promote co-operation in the region. next meeting of the group with a physical presence in the Autumn of 2022.
In his speech, Mr. Kasoulidis highlighted the need to maintain the political momentum in the 3 + 1 group through cooperation programs in various sectors. He stressed that in this network of synergies no country is excluded, meaning that there is respect for International Law and its individual aspects as well as the Law of the Sea. He informed about the intention of Cyprus to host a ministerial meeting on issues of blue economy, while on the issue of dealing with natural disasters, he proposed the creation of a regional multinational hub to deal with fires.