The agreement concerns the EIMF certified academic diploma in "Accounting and Financial Management"
Employment with full-time status and benefits and coverage of all study costs for the acquisition of the recognized diploma in "Accounting and Financial Management" provides for an agreement between K. Treppides & Co Ltd and European Institute of Management and Finance (EIMF).
With this important agreement, the opportunity is offered to six (6) EIMF students to obtain (part-time) their diploma and the necessary work experience at the same time, enjoying the benefits of a permanent job in the Department of Accounting Services and Financial Statements of the largest independent Cypriot consulting company K. Treppides & Co Ltd, a company with an established international presence and offices in Great Britain, London, Hong Kong, Malta and UAE.
It should be noted that the academic diploma in "Accounting and Financial Management" of the EIMF is certified by the Agency for Quality Assurance and Certification of Higher Education (DIPAE) of the Republic of Cyprus and is recognized by international professional accounting bodies such as AAT, ACCA, ICAEW and CIMA. It is also emphasized that EIMF is a provider of professional training, eLearning and specialized learning programs with a strong emphasis on the financial and professional services sector while at the same time being a certified higher education institution.
Those interested in this agreement should satisfy the admission criteria of the program and pass successfully through the evaluation procedures of the employing company.
For more information and to apply for the program you can visit https://eimf.eu/diploma-in-accounting-financial-management/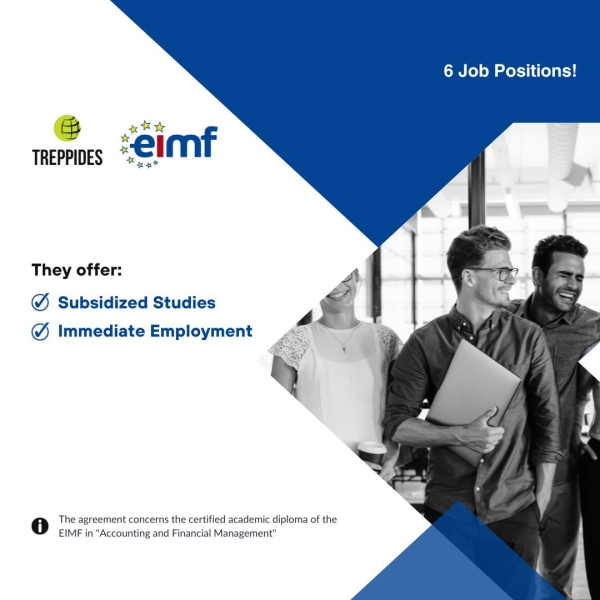 < iframe width='300px' height='500px' src='https://www.adstorebluebird.cy/api/banner/ServeBanner?zoneId=2734' frameborder='0' scrolling='no'>