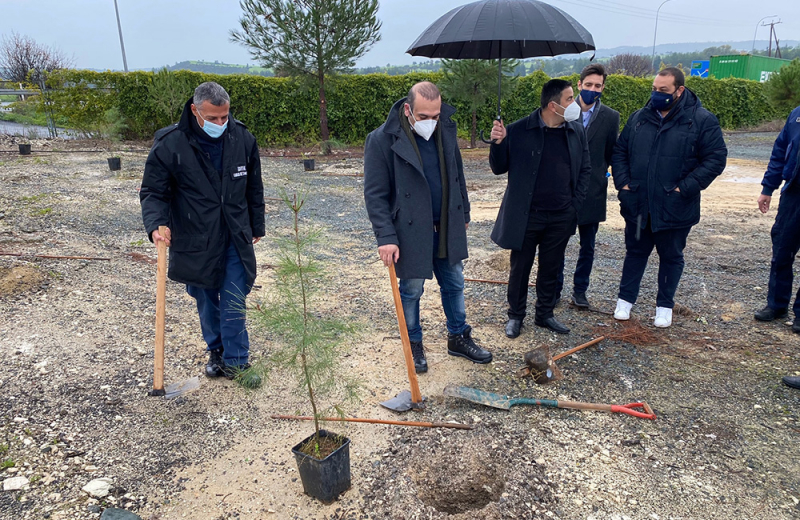 50% of the pollutants in Cyprus come from transport while the percentage in the European Union is at 25%, says the Minister of Transport Giannis Karousos who stated that the goal is to reduce by 55% by 2030 and by 2050 to have zero pollutants.
The Road Transport Department of the Ministry of Transport, Communications and Works, planted trees at the Weighing Station of the department in Kofinou today in the presence of the Minister of Transport, Giannis Karousos.
In his statements to KYPE after the tree planting, the Minister of Transport Giannis Karousos stated that "it is known that in Cyprus, 50% of the pollutants come from transport, while in the European Union, this percentage is around 25 %.
Do you understand, said Mr. Karousos, "what a burden of responsibility we have as a Ministry and I as a Minister, but especially the departments of the Ministry, in the effort we make to achieve our environmental goals, which is to reduce them by 55% by 2030 and to be neutral, ie zero pollutants until 2050 ".
In this effort, he said, "there is an initiative and a series of actions so that we can change the culture in the Ministry and its Services, which are the ones that will work hard to achieve these goals."
Mr. Karousos stated that "Within this framework, many actions and initiatives are organized and one of them is the tree planting, where today together with the General Director of the Ministry Stavros Michael, together with the Director of the Road Transport Department Giannis Nikolaidis, and Road Transport Supervisors, we implement this decision which is symbolic and the goal is to send a message throughout the Ministry to the last employee and employee of the Ministry, about what is coming to the Ministry and to promote environmental awareness within the Ministry He said.
Source: KYPE