POWERED BY:
02:56 Wednesday
March 30, 2022 INSIDER • GOAL • IN-CYPRUS • PROPERTY • CYPRUS-IS • CAREER LIKE • GOING OUT • XRYSES SYNTAGES • ACTIVE • PHILGROUP NEWS & nbsp; SOCIETY & nbsp; INSIDER & nbsp; OPINIONS & nbsp; GOING OUT & nbsp; CULTURE & nbsp; SPORTS & nbsp; AUTO & nbsp; GOOD LIFE & nbsp; USEFUL & nbsp; PRINTED EDITION & nbsp;
ARCHIKIEIDISEISPOLITIKITOPIKAPARASKINIOMEDIAELLADAKOSMOSEPISTIMIPERIVALLONTECHNOLOGIASYNENTEFXEISCHRYSES ETAIREIESKOINONIAEIDISEISKYPROS OF CHTHESANAGNOSTI HAVE LOGOEPISTOLESSYNENTEFXEISDIMOFILI IN INTERNETVIDEOSAFIEROMATAADVERTORIALINSIDEREPICHEIRISEISKYPROSBRAND VOICECAPITALFORBESBLOOMBERG OPINIONPROTAGONISTESKAFTI GRAMMICHRYSES ETAIREIESKARIERAAPOPSEISARTHRA IN "F" INTERVENTION IN "F" MESSAGE YOUR SKITSAO WORLD TWITTERGOING OUTTHINGS TO DOCINEMAMOUSIKIESTIATORIABAR/CAFETV ODIGOSTILEORASIPOLITISMOSKYPROSKOSMOSKRITIKESEKDILOSEISPROSOPAATHLITIKAPODOSFAIROMPASKETPARASKINIAELLADADIETHNIALLA SPORAPOPSEISSKITSOVIDEOSAUTONEAPAROUSIASIAPOSTOLESAGONESKALI ZOIFGEIADIATROFIEF ZINASTRACHRYSES SYNTAGESSYNTAGES SEFVIMA VIMACHRISIMAFARMAKEIAGIATROIAERODROMIALIMANIATILEFONAOPAPKAIROSSYNALLAGMALACHEIAAPPSPROSFORESENTYPI EDITION POLITIKITOPIKAPARASKINIOMEDIAELLADAKOSMOSEPISTIMIPERIVALLONTECHNOLOGIASYNENTEFXEISCHRYSES COMPANIES EIDISEISKYPROS OF CHTHESANAGNOSTI HAVE LOGOEPISTOLESSYNENTEFXEISDIMOFILI THE INTERN ETVIDEOSAFIEROMATAADVERTORIAL EPICHEIRISEISKYPROSBRAND VOICECAPITALFORBESBLOOMBERG OPINIONPROTAGONISTESKAFTI GRAMMICHRYSES ETAIREIESKARIERA ARTICLES IN "F" INTERVENTION IN "F" MESSAGE YOUR SKITSAO WORLD OF TWITTER THINGS TO DOCINEMAMOUSIKIESTIATORIABAR/CAFETV ODIGOSTILEORASI KYPROSKOSMOSKRITIKESEKDILOSEISPROSOPA PODOSFAIROMPASKETPARASKINIAELLADADIETHNIALLA SPORAPOPSEISSKITSOVIDEOS NEAPAROUSIASIAPOSTOLESAGONES YGEIADIATROFIEF ZINASTRACHRYSES SYNTAGESSYNTAGES SEFVIMA STEP FARMAKEIAGIATROIAERODROMIALIMANIATILEFONAOPAPKAIROSSYNALLAGMALACHEIAAPPSPROSFORES ENTERPRISES LTD BRAND VOICE CAPITAL FORBES BLOOMBERG OPINION PROTAGONISTS HOT LINE GOLDEN CAREER COMPANIES
EXCLUSIVE COOPERATION
TOGETHER WITH
< img class = "aligncenter" src = "/media-library/2022/03/1d3608eb94881ec0c3d20e351c48612f.png" alt = "& Kappa; & alpha; & rho; & omicron; ύ & sigma; & omicron; & sigmaf ;: & Alpha; & et; ka & nu; & gamma; & iota; & alpha; & pi; & omicron; & iota; & omicron; & tau; & iota; & kappa; ό & tau; & omicron; & upsilon; & rho; & iota; & sigma; & mu; ό "/>
Powered by
Next Previous Karousos: Need for quality tourism HOME • INSIDER • CYPRUS • Karousos: Need for quality tourism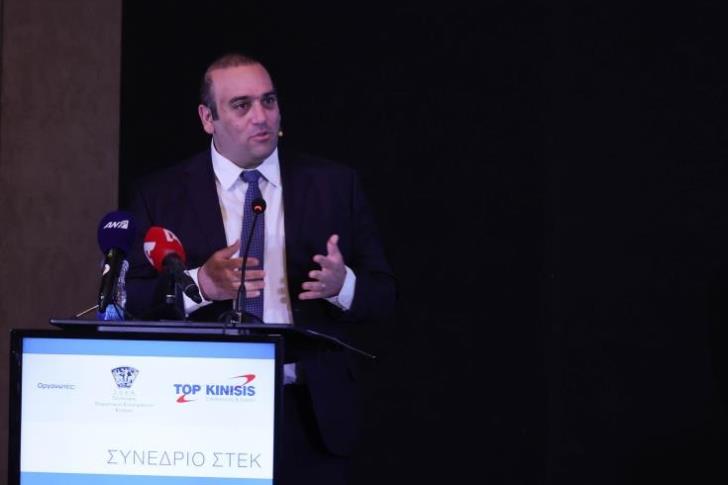 & nbsp & nbspInsider/ΚΥΠΕ & nbsp; & nbsp;
Both the Minister of Transport, Communications and Works Giannis Karousos and the Deputy Minister of Tourism Savvas Perdios stressed the need to attract quality tourism that can be resistant to ongoing crises but also the need for the tourist to experience the Cypriot experience during his trip to Cyprus. Speaking at a conference organized on Tuesday by the Cyprus Tourism Association (STEK) on "Tourism: The Next Day".
Specifically, Mr. Karousos said that quality tourism comes through integrated tourism experience, while emphasizing that "without air connectivity we will not see quality visitors".
The Minister of Transport said that in order to achieve this goal "we must create such a tourist resort so that visitors have such unique experiences and memories, so that when they return home they can take some Cyprus with them, some of the tourist resort they have visited so that we have repeat visitors ".
"For me, quality tourism is the kind of tourist and the kind of product that we will prepare and it will result in three things: The first is that we will create a destination that will be enjoyed by visitors, the second is that businesses will prosper. and the third is that the residents will be proud of their resort ", he underlined.
Referring to the air connectivity of Cyprus, Mr. Karousos said that a remarkable effort is being made in cooperation with the Ministry of Tourism, the Hermes and many others and "we managed in the midst of crisis and in the midst of a pandemic to have more destinations available, more options than in 2019".
He added that in 2021 we had 158 destinations, while in 2019, which was the best tourist season and passenger traffic, we had 150 and more or less the same airlines.
Stating that the Deputy Minister of Tourism insisted that we should open France and to persuade airlines to include it in their destinations, Mr. Karousos said that "for several years there were no direct flights and now we have flights to almost all airports in Paris, Toulouse, Lyon, Strasbourg and they will come and others ".
In addition, the Minister of Transport said that with the initiative of Cyprus for the Declaration on Air Connectivity and its adoption by 13 other EU Member States, "we ask the European Commission to submit a specific plan to support and recover aviation, but also to give us the tools – because there are now enough problems with state aid – to support air connectivity. "
"One of the aims of the Declaration, apart from the tools and the pressure on the European Commission to support aviation, is to introduce a definition of what constitutes minimum air connectivity," he said.
For his part, Deputy Minister of Tourism Savvas Perdios said that every year there is a new crisis in tourism and stressed that the effort of the Ministry is "to make tourism more resilient than before, so that these crises that will continue to come every year we can deal with them. p>
Regarding the quality in terms of tourism, Mr. Perdios said that at the Ministry of Foreign Affairs "despite the crisis of the pandemic we tried to make some products that can give a new identity to Cyprus" and added that "we must leave the quality marks to can put in the visitor's mind what Cyprus means ".
Referring to 12 examples on which the State Department has worked for the last two years, Mr. Perdios said that the first concerns the theme parks of Cyprus and stressed that "the goal is to certify many theme parks so that their level in general can rise".
He said that the second signal concerns the beaches and added that Cyprus has 75 beaches with a blue flag but the most important, as he said, is that Cyprus has the cleanest waters in Europe "with a percentage of 100% purity, according to the European Agency Environment.
He then referred to the Cypriot gastronomy and said, among other things, that it is not enough to say that Cyprus has good food and added that it is different to refer to a Cypriot breakfast with which "automatically an identity mind of the visitor ".
Mr. Perdios also referred to the need to create "Vegan Friendly" hotels and restaurants, noting that 150 companies in Cyprus have joined this brand.
He also mentioned, among other things, the need to promote Cypriot wines. , but also the need to highlight the Cypriot nature and the Cypriot villages which will be given the opportunity to stand out globally.
& nbsp; "The way of promoting Cyprus abroad has now changed. "We are not saying that we are an island of the sun and the sea", he said and added that "what we are saying is that Cyprus is not only an island of the sun and the sea but is also rich in history, culture and experiences.
"Cyprus differs not in the existence of these experiences but in the fact that one can find them by traveling very short distances," he stressed.
Speaking at the conference, the President of the Hellenic Tourism Organization (EOT) Angela Gerekou said Cyprus could be a "success story" for the next day.
He spoke in support of the US Alliance, but said that maintaining some independence was not the answer to the crisis. how resilient it becomes each time to manage these crises. "
Ms. Gerekou said that she firmly believes that the only solution to these crises is quality tourism and added that in order to achieve this goal "the reason must be given to the modern traveler".
"Almost 50 % of travelers much more important than in the pre-pandemic period ", he said and added that" the desire of travelers to take their lives back is so strong that at the moment it shows that it is difficult to stop enough, despite the war in Ukraine and the crisis ". & nbsp;
He also said that "sustainable businesses and environmentally friendly policies are an ongoing issue" and stressed that "feeling like a local traveler is the most important experience that will take a part of our country with him."
< Finally, the President of STEK Akis Vavlitis referred to the ongoing crises since 2001 and to data on tourism and added that "there must be a serious reduction of our excessive dependence on one or two countries."
He stated that until 2008 Cyprus had tourism from the United Kingdom which reached 57% of the total arrivals, while in 2019 we had two countries, the United Kingdom with 36% and Russia with 21%.
" "Almost all other Mediterranean tourist countries do not depend on more than 20% of a country," he added. for a thriving hotel industry and a prosperous economy ".
Regarding data on tourism revenues, Mr. Vavlitis said that in 2019 while arrivals were higher by 1.28 million compared to 2001 "We had € 140 million less," he said, adding that "he clearly shows us that we need to move towards better quality tourism."
", He added, adding that these elements, among other things, should be a cause for concern others for the offered tourist product, its pricing and the utilization of offered ways of sale.